Shopping Cart
Your Cart is Empty
There was an error with PayPal
Click here to try again
Thank you for your business!
You should be receiving an order confirmation from Paypal shortly.
Exit Shopping Cart
| | |
| --- | --- |
| Posted by gooddogdc on August 12, 2011 at 2:05 PM | |
It's been awhile since I posted.  Things have been busy around here!  Chance is doing great.  I've been bringing him to work almost every day recently, this seems to be good and bad.  It's good because when he gets home, he is more outgoing than we've ever seen him - enthusiastic about going for walks, responding to training, and even playing a little with squeaky toys.  The downside is that he is still super stressed at work.  He pretty much shuts down while he's there and will not even go the bathroom at WARL until Iry, his foster sister is there or I grab a shelter dog to show him how it's done.  At work he is always scrambling to get away and hide and does not even respond to me, unless it's me saying "okay" you can go back to hiding under my desk.  I am going to continue to bring him at least 3 days per week.  I think it's good socialization and he will get used to it eventually I'm sure of it.
Now to the fun stuff!  Even though he is still really scared, his training is still improving.  He now "knows":
"Chance" - means look at my face
"Chancey, Chance" (in a sing song voice) - means come
An open palm - means touch your nose to my open hand
"Up" - means jump in the car
"Wait" - means don't move foward
"Okay" - means you are released, you can go now
"Sit" - this one is very hard for him, I still have to lure him with a treat and only have about a 20% success rate, even at home where he is comfortable
These all need lots more work before they are dependable, especially in stressful situations, but he is getting there!  His nice temperament makes him worth all the extra effort.
Another thing that Chance is still working on is learning to enjoy physical affection.  He is very scared when strangers try to pet him.  He doesn't even like for me to pet him; although, he tolerates me.  The one place he really does enjoy being pet is in our bed!  I hate having him in the bed, but my boyfriend loves having him there and he seems so much more relaxed.
We have definitely created a moster with the whole bed situation because now that is the ONLY place he wants to be.  There and in his exercise pen hanging out with his massive pile of loot that he has "found" all around the house and brought back to his exercise pens.  Here is a picture of him with his pile of treasures: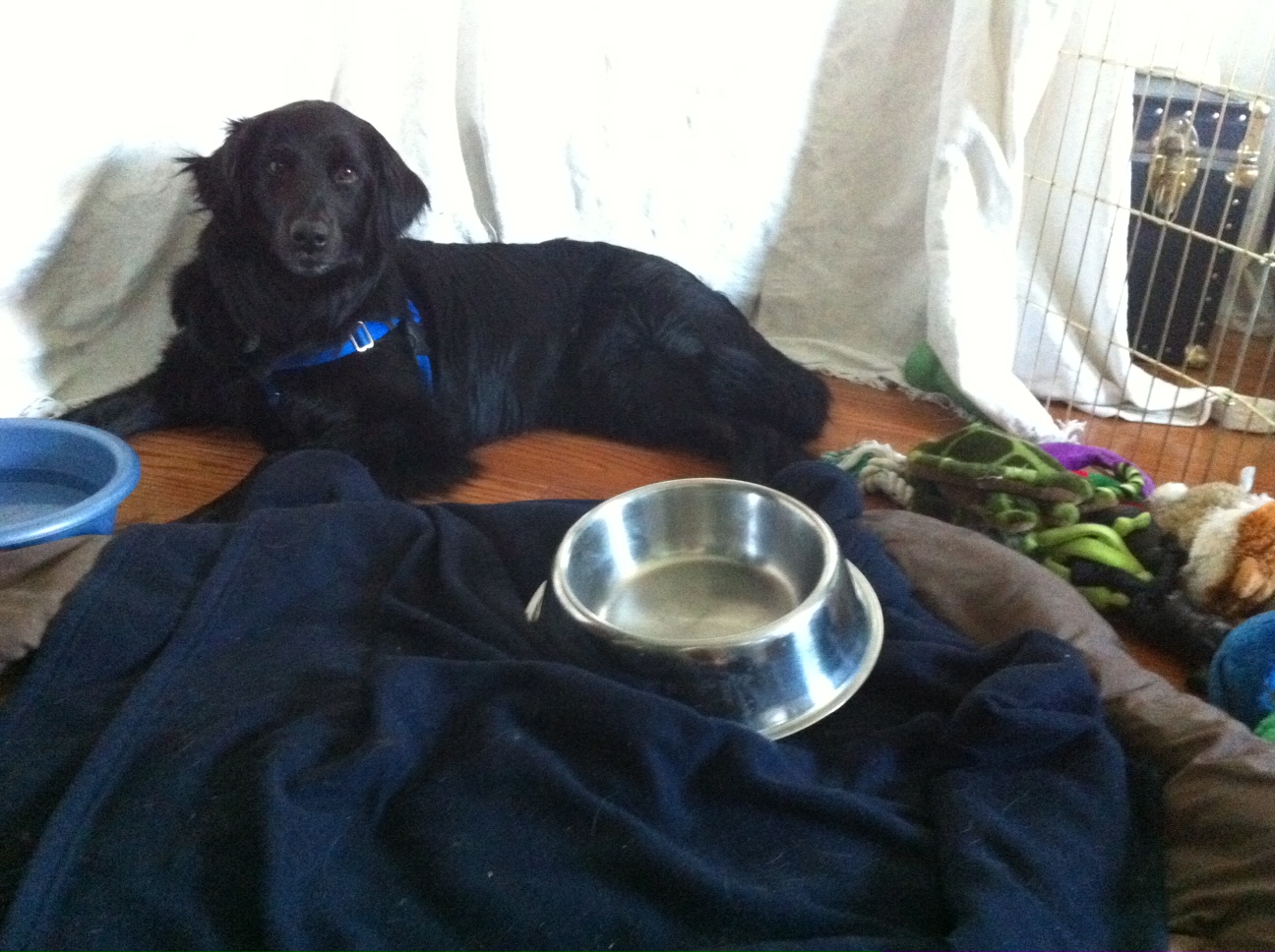 He still has a long way to go before he will be "normal" and he may never be comfortable in busy situations; however, in just 3 months, he has made incredible strides and is learning to enjoy being a pamperd pet!  He will stay on his anti-anxiety medication until he finds his forever home.  He will also need lots of gradual exposure to a variety of different situations.  At the end of the day, he is an AMAZING dog and I will only send him to the perfect home for him - he deserves it! 
Categories: Chance (ADOPTED)
/