Shopping Cart
Your Cart is Empty
There was an error with PayPal
Click here to try again
Thank you for your business!
You should be receiving an order confirmation from Paypal shortly.
Exit Shopping Cart
| | |
| --- | --- |
| Posted by gooddogdc on May 15, 2011 at 3:59 PM | |
I was so attached to Phoenix, that after he left, I wanted to take awhile before including a new foster dog into our house.  Being a foster home is not easy!  I wasn't expecting to foster right now, I am very busy at work and will be starting classes this summer, but life is full of wonderful surprises!
Chance is a beautiful, healthy 5 year old male Flat Coated Retriever mix (scroll down if you want to see pictures).  Here is his story...
On March 19, 2011 at work (the Washington Animal Rescue League), we got in a group of 30 dogs from a no-kill shelter turned hoarding situation.  349 dogs were removed from the property.  The dogs were in pretty bad shape and 76 of the dogs on the property were found dead by the ASPCA.  From the 30 dogs that we received, they had varying medical issues - hip dysplasia, extremely underweight, obesity, hot spots, etc.  Almost all had extreme behavior issues; most were terrified of people and loud noises and many guarded food.  The behaviors were not surprising considering the dogs were mostly isolated from people, kept in horse stalls, and probably fed all together, which explains why some were really thin and others were obese and most were aggressive around food.
However, there was one dog who was really stuggling and caught my eye.  During the first week at the shelter, he began attacking his automatic water bowl (I think trying to get behind it to hide), so much so that he was hurting himself.  We moved him to the clinic to keep a closer eye on him.  Day after day I watched him.  We tried to coax him into accepting human presence by pairing it with his daily meals.  Daily, we tried to coax him out of his crate.  We put him on medication to take the edge off of the extremely stressful situation he found himself in.  Nothing worked.  We moved him into the main shelter and gave him a crate to hide in, but he still wouldn't engage with people and seemed chronically stressed.  Finally, after a month at WARL, I decided to take him into my home as a foster to see if he would show any signs of relaxing, any quality of life, any hint of "coming around." 
The first day I took him home, I had to give him a bath before leaving work (he came from living in a horsestall and smelled like it!).  He was terrified!  I thought he would physically hurt himself or me before the bath was over, but he didn't, he just came very close a couple of times to strangling himself on the leash.  Never during the 30 minutes of panicking during the bath did he aggress, which was a pretty amazing accomplishment!  After the bath, he panicked on-leash, lunging and darting around.  This was not surprising considering this was one of his first walks on leash ever and I had just scared the living daylights out of him.  When we got home, he darted straight into a large crate I had set up for him and wouldn't come out for the rest of the night.  I was a little nervous because he didn't go the bathroom, but I figured he needed the sercurity of the crate more than a potty training lesson.  Below is a picture from day one.  He buried himself all the way in the back up the crate and pushed all the blankets forward to provide as much of a barrier as possible.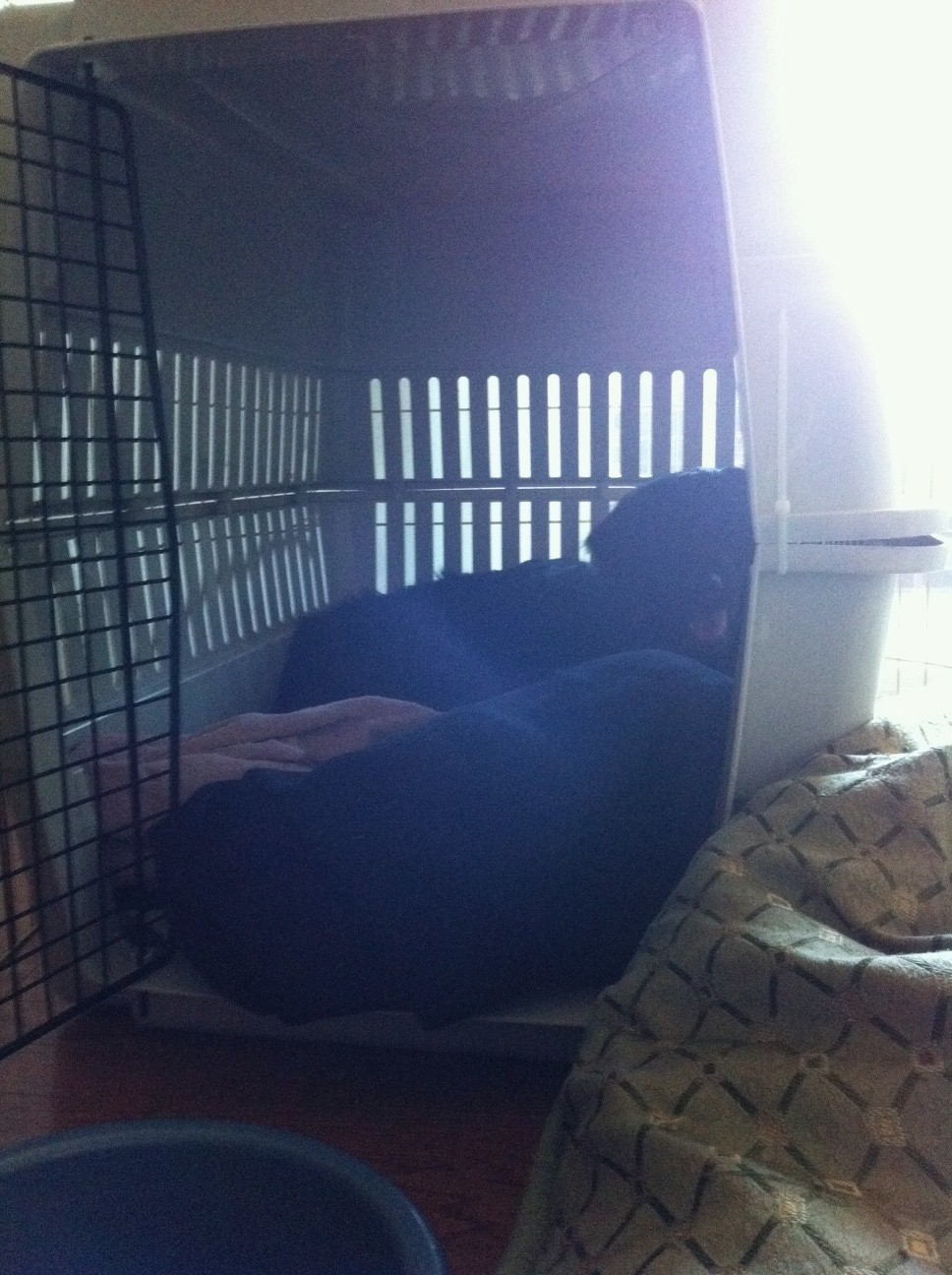 Here we are one and a half weeks later and I am truly impressed.  This was a dog who I thought might not make it in a world of humans because he was so terrified.  We have had our ups and downs, but there has been overwhelming sucess in his adjustment to human life.  He is totally housetrained (we take him out every 4 hours), he jumps easily in and out of the car to go for rides and usually lays down, he is very quiet, he is not destructive, he eats out of Kongs, he has learned that "Chance" means to make eye contact with me, he is learning that "touch" means to lick my outstretched hand, he walks calmly in the neighborhoods around my apartment, he loves to go hiking in Rock Creek, and he has learned to walk in and out of the elevator in my apartment building.  He is still learning several things: stairs (he fell down 1/2 a flight the first time he did them, but hasn't seemed to have a problem since), mirrors (he just stares and stares), a leash means that good things are going to happen, that strollers are not scary, how to navigate Connecticut Ave, and that "come" does not mean to run away :).
While I think Chance is going to be a bit of a project, I am committed.  I think that he will make a wonderful, loving, sweet companion for the right owners who have a little extra patience, time, and love to give.  Contact me at [email protected] if you are interested in learning more about Chance.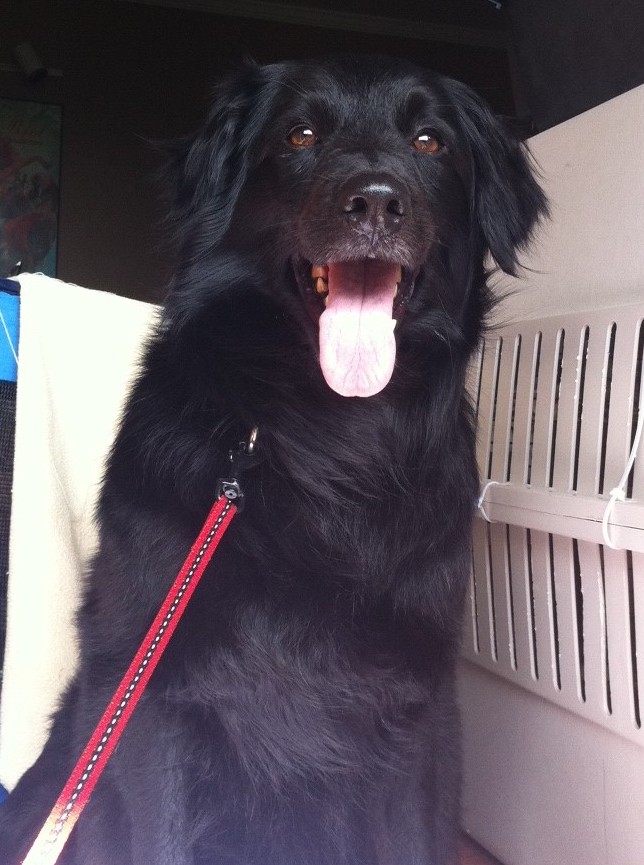 Categories: Chance (ADOPTED)
/