Shopping Cart
Your Cart is Empty
There was an error with PayPal
Click here to try again
Thank you for your business!
You should be receiving an order confirmation from Paypal shortly.
Exit Shopping Cart
| | |
| --- | --- |
| Posted by gooddogdc on July 14, 2014 at 3:05 PM | |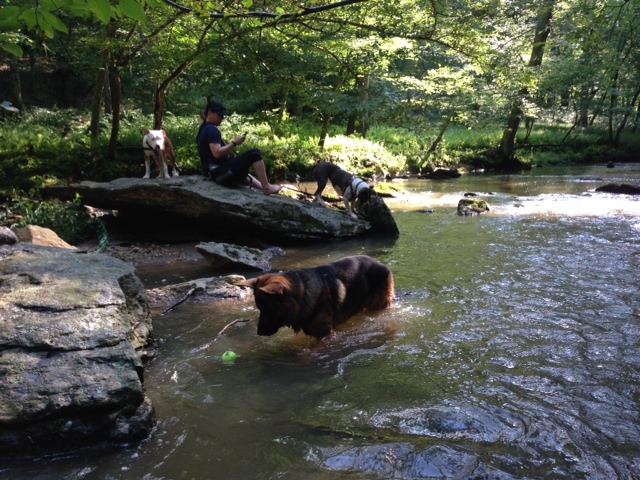 With summer here in full swing, and temperatures up in 90s today and tomorrow, that leaves many of us with active dogs stuck on what to do to keep them busy! Here are a few tips that might help satisfy your dog and give you a break!
Swimming – My all time favorite exercise to do with my dogs! Dogs can take swim lessons at Canine Fitness Center in Crownsville, MD. If your dog already swims, there are great swimming spots on NW Branch Trail off Colesville Rd in Silver Spring and in Cabin John Park. Even just hiking in Rock Creek and allowing your dog to wade in the creek can really help!
Early Morning and Late Night – Pre-8am and post-9pm, temperatures can be dramatically cooler. I particularly love a good early morning hike on a trail, like Soapstone Valley, just off Albemarle St in DC. Trails in the morning that have creeks running through them are the perfect outlet, while still keeping your dog nice and cool!
Scent Work – Scent work is one of my favorite activities to do with my dogs because they love it so much! Teach your dog games such as "find it", where they can use their nose to sniff out hidden treats or a special toy. As your dog gets better, expand the search area. Pretty soon, your dog will be able to "find it", even if the object or food is several rooms away. The best part is that all of the mental stimulation of sniffing and figuring out where the hidden prize is will tire your dog out almost as much as a walk!
Make Doggy Popsicles – Fill up a KONG toy will kibble and any other tasty tidbits, and let your dog go to town on this frozen treat! Not only will the frozen treat take longer to eat than a normal bowl of food, but your dog will get lots of good mental stimulation from the process. This is especially good for teething puppies or dogs who like to chew. One of my favorites is ½ a mushed up banana, peanut butter, and a little bit of honey, my dogs love it! If your dog is more of a savory kind of pup, try kibble mixed with canned wet dog food. Put a chunk of string cheese in the bottom of the KONG for "dessert", this one works for most dogs.
Tricks – Tricks may seem frivolous to us, but they can actually be one of the very best ways to challenge and expand your dog mentally and physically. Tricks like "sit pretty" require lots of engagement of core muscles. After a few repetitions, you'll see your dog might need a break. Even simple tricks, such as "shake" can help to work and engage muscles that your dog normally doesn't use repetitively.
Have a Playdate – Find a friend with some friendly dogs, set up a kiddie pool in the backyard, and let the dogs go to town! They will gets lots of great mental and physical stimulation from chasing each other around, and the kiddie pool will help them cool off when needed. Be sure to provide plenty of shade and take breaks in the AC as needed.
I hope this gives you some good ideas to stay cool while leaving you with a happy and tired dog!

Categories: None
/