Shopping Cart
Your Cart is Empty
There was an error with PayPal
Click here to try again
Thank you for your business!
You should be receiving an order confirmation from Paypal shortly.
Exit Shopping Cart
| | |
| --- | --- |
| Posted by gooddogdc on October 7, 2013 at 9:25 AM | |
#7. I think toys are one of the most under used supplies out there. If you buy a bunch of toys and leave them around the house for your dog to play with whenever he feels like it, sometimes he might play, but often those toys become pretty boring to him. Instead try putting all of your toys up. For young pups leave down chew toys only (medium to hard in texture toys meant for chewing).
Start with one very special toy and start building up your dog's desire for it. Often a plushy, squeaky toy is an easy place to start. I really like those long skinny ones with no stuffing because you can use them for light tugging and they seem to peak a dog's interest better than some. I also try to make sure that the toy I am using is small enough to easily fit in a pocket so that I can use it later for training.
Many dogs do not like playing with toys, but enjoy playing with you. For those dogs: several times a day, when your dog seems a bit active, surprise your dog by whipping the toy out of your back pocket. Proceed to act like a total goofball, running around, do high-pitched baby talk, all the while playing with your toy. If at any point your dog plays with the toy at all, praise him heavily and act even goofier. After 20 seconds of madness, put the toy away and sit down ignoring your dog. Pretend like nothing ever happened. Keep this up until your dog is actively engaging with the toy.
Once your dog realizes that this one toy is the key to getting his owner to be FUN, he will slowly start to become obsessed with the one toy. At that point, you can start making your dog work for it. "Sit" to play with the toy, "down" to play with the toy, etc. Once your dog is obsessed and working for one toy, you can slowly start to add others into the mix.
Toy training is lots of fun! The best part is that it makes your dog interested in you. It is definitely a relationship builder and playing with your dog will give you great focus from your dog and a killer recall. Happy training!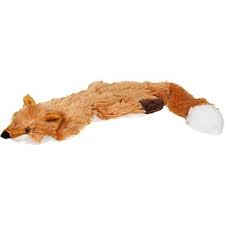 Categories: 10 Tips from a Professional Dog Trainer
/