Shopping Cart
Your Cart is Empty
There was an error with PayPal
Click here to try again
Thank you for your business!
You should be receiving an order confirmation from Paypal shortly.
Exit Shopping Cart
| | |
| --- | --- |
| Posted by gooddogdc on September 27, 2013 at 11:05 AM | |
And the countdown begins today with #10!
#10. Your dog's life can be pretty boring, especially if they are young or energetic. Help your dog out by taking a different route on your daily walk, or even switching to the opposite side of the street.  You could also add 15 minutes to your daily walks, which makes a big difference for many dogs.  Also, dogs usually appreciate weekend excursions to a friend's house or to the local park.  Aim to take your dog one new place each week, even if it's just in the car to go through a car wash or drive thru.
Another thing you can do to help in the war against boredom is to invest in several different activity toys. Activity toys are one of the most overlooked aspects of dog supplies. Everyone gets the dog bed, bowls, nail clippers, squeaky toys, and food. But, don't forget the activity toys! Activity toys are the books, magazines, and television programs of your dog's world. There are many different ones out on the market, but some of the simplest and best ones are hollow rubber toys that you can stuff with your dog's meal or other goodies. Many dog trainers feed their dogs exclusively out of these toys. It takes a few extra minutes, but the mental stimulation your dog gets out of it is well worth it.  If your dog doesn't go for the toy initially, don't worry about it!  Many dogs have to learn to play with these toys.  Initally, play with him with the toy until he figures out how to make the food fall out.
I hope you have fun teaching your dog to play with these awesome new toys!  Happy training!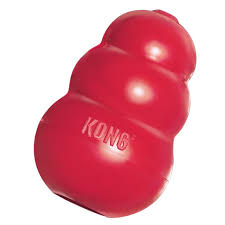 Categories: 10 Tips from a Professional Dog Trainer
/