Shopping Cart
Your Cart is Empty
There was an error with PayPal
Click here to try again
Thank you for your business!
You should be receiving an order confirmation from Paypal shortly.
Exit Shopping Cart
| | |
| --- | --- |
| Posted by gooddogdc on January 10, 2012 at 8:00 AM | |
So we have a new foster!  Last night, I brought home a gorgeous apricot miniature poodle named Gavin.  He was saved from life at a puppy mill in Arkansas by the ASPCA.  At WARL he was jumping up and barking and growling at people who walked by, but if you reached in to pet him, he would just hide.  He was definitely continuing to get worse at the shelter, so I decided to take him home to see if being in a home environment would help or if he would continue to be reactive and aggressive toward people.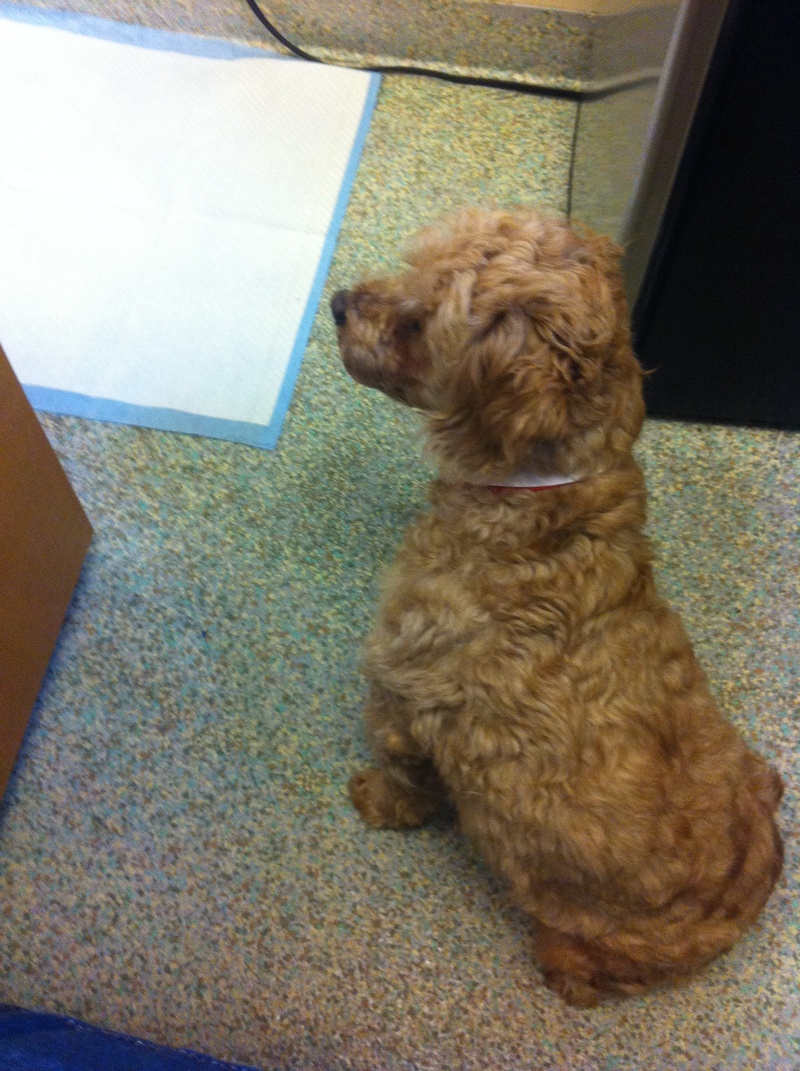 So far, he has done great!  I brought him into my office at around 2pm yesterday.  So far, he has had no accidents inside.  I put a wee wee pad in my office (above), but he just laid down on it and fell asleep.  He has peed outside four times but still no poop - housetraining a puppy mill dog is definitely possible!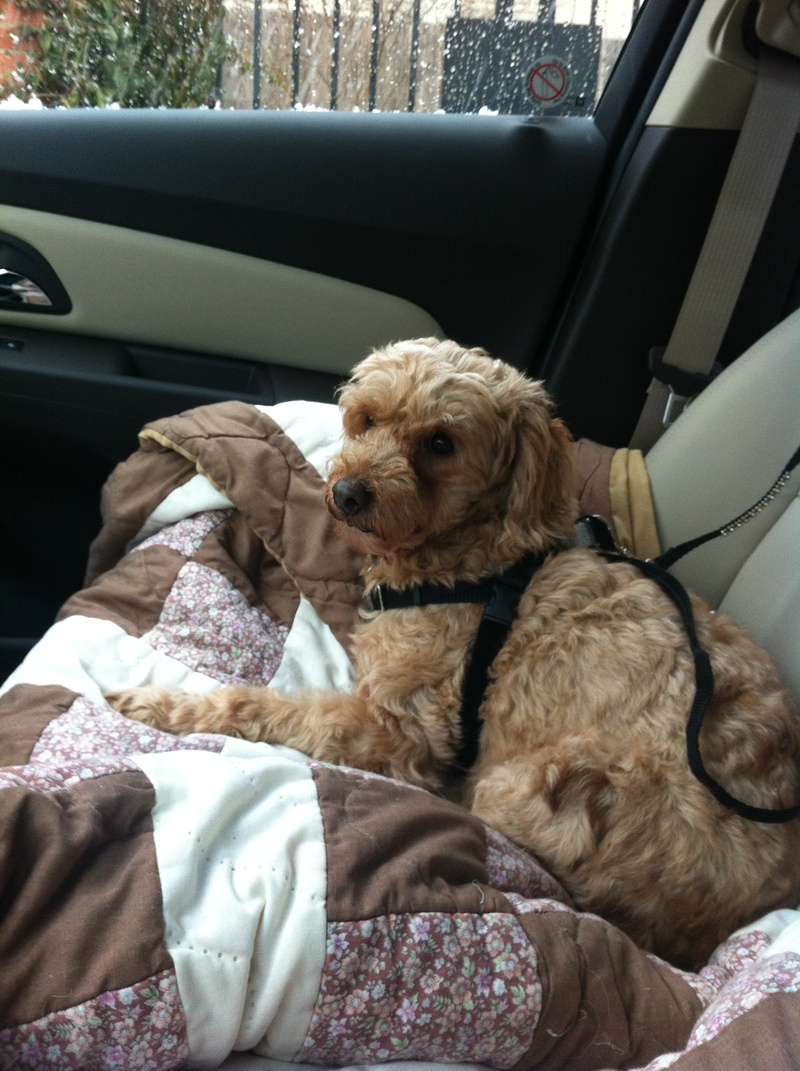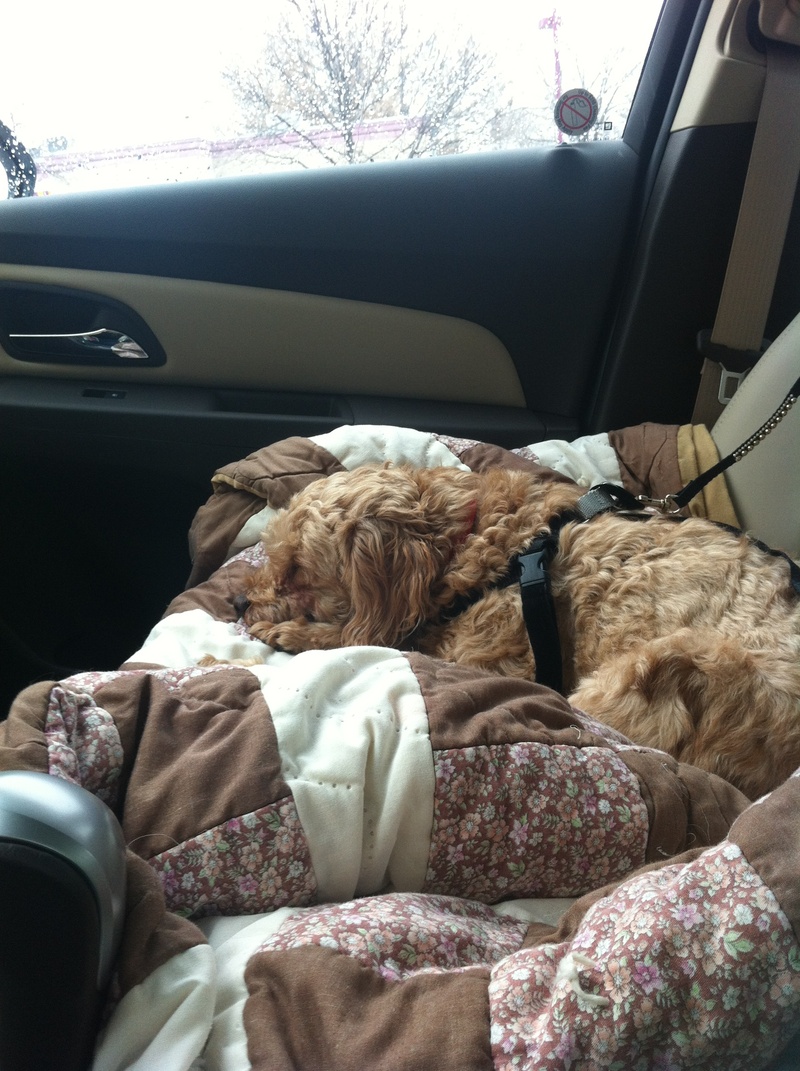 I took him with me to pick up lunch and he rode very nicely in the car and just slept in the passenger seat.  It was almost like he was relieved to finally be somewhere quiet!  He was facinated by the snow.
This morning was a little more challenging since I live right off Connecticut Ave.  All of the traffic was intimidating to him, and he wouldn't go the bathroom.  I will try to feed him breakfast and take him out in a few minutes to see if that helps. 
Over the past day together, I haven't heard him make any noise (I think he is too nervous) and hasn't shown any aggression, just fear.  If you lean over him, he will run away, but if you squat down, he will almost always run over and sit touching you.  He also will try to jump up into your lap if you let him, and he can jump high!  He is definitely getting used to household noises, and "listens" to the TV with a bit of concern.  He ate dinner out of a Kong, and did just fine with it.  He also seems to be slightly interested in his toys, but is too nervous to play with them yet.  He is a lot like a shadow because he stays very close on walks, directly behind you. 
My ideal home for him would be one with another small to medium sized dog that he could use as a "role model".  I also think that is important that whoever has him is willing to be a good leader to him.  If coddled and treated like a baby, I do think there is a possiblity that he could become the "boss" and the barking behavior that we saw in the kennel could resurface.  However, if you are willing to treat him like a dog, no sleeping in your bed, no couches, no coddling, no baby talk, no lap dog, I think he will be very succesful in his new home and a wonderful dog!  He needs a "leader" so that he can gain some confidence and not be so shy!

Categories: Gavin (ADOPTED)
/