Shopping Cart
Your Cart is Empty
There was an error with PayPal
Click here to try again
Thank you for your business!
You should be receiving an order confirmation from Paypal shortly.
Exit Shopping Cart
| | |
| --- | --- |
| Posted by gooddogdc on June 1, 2009 at 8:28 AM | |
So, Conner was not the dog that we thought that we were going to be fostering, but he's has turned out to be even better than we imagined.  See how cute he is!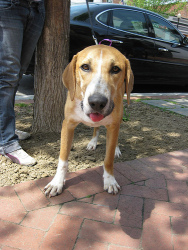 The rescue says that he is a lab/black mouth cur.  I am currently working on putting some wieght on him because (as you can see in the photos) he is definitely too skinny! 
About Conner: He has been with us for two days, and he has been wonderful. 
Conner did NOT get sick in the 30 minute car ride home (although he did drool a little!).  He just put his head down and rested until we got home.
He is great in his crate - he doesn't have any accidents, whine, or bark.  He actually has not had any accidents in the house at all!  When we take him out, he usually goes pee right away and poops after a couple of blocks.
On leash, he walks wonderfully!  He barely ever pulls, and when he does, he responds to the slightest pressure to come back to you.  I don't think he has been in a city before though because everything seems new to him.  You can almost see him thinking as he watches everything.  He is interested in squirrels and birds, but , so far, he has not chased them.  He just looks.
So far, he is great with other dogs and all of the people that he has met.  I have a small Corgi mix, and he is very good with her.  On walks, people often pet his head in passing (because he is so tall) and he just takes it all in stride. 
Things he is learning: Conner is learning about houses in general.  The first time that I turned on the TV, he cocked his head and just watched and listened.  It was really cute!  He also is learning about household noises.  He still perks up if the air conditioning turns on and off.  He is also learning that countertops and furniture are off limits - a quick "eh, eh" generally does the trick, and he is trying less and less.
Conner is also learning about good manners.  We are working on name recognition (we changed his name from Flipper), waiting patiently to eat, come, sit, down, touch, and many other things.  He is a very fast learner (must be the lab in him!).
Traffic is another thing that he is learning about.  The first time that I tried to take him across Connecticut Ave, he didn't want to go.  Now, he goes willingly, but stays pretty close to me.
He is learning not to investigate pockets.  I think that he is used to people having treats in their pockets, so he constantly wants to "check out" peoples' pockets.  This habit is fading pretty quickly, but sometimes it startles people on walks.
He is also learning how to cuddle.  Conner is a little shy of hands reaching out towards him, but he loves belly rubs/scratches, and he is learning how to love petting/cuddling in general.  Poor guy, I don't think that he was cuddled too much in his past life!  He is so sweet though, and he will walk over and just place his head gently on your lap. 
Conclusion: Conner is a wonderful dog!  I bought these "Adopt Me" bandanas for him, but I have been teasing my boyfriend that I will not put them on him because I know he will get adopted so quickly, and I want to spend more time with him!
That being said, if you are interested in adopting Conner, please email me at [email protected] or you can call me at 202-341-5302.  Thanks!
Categories: Conner's Story (ADOPTED)
/