Shopping Cart
Your Cart is Empty
There was an error with PayPal
Click here to try again
Thank you for your business!
You should be receiving an order confirmation from Paypal shortly.
Exit Shopping Cart
| | |
| --- | --- |
| Posted by gooddogdc on June 29, 2009 at 11:28 PM | comments () |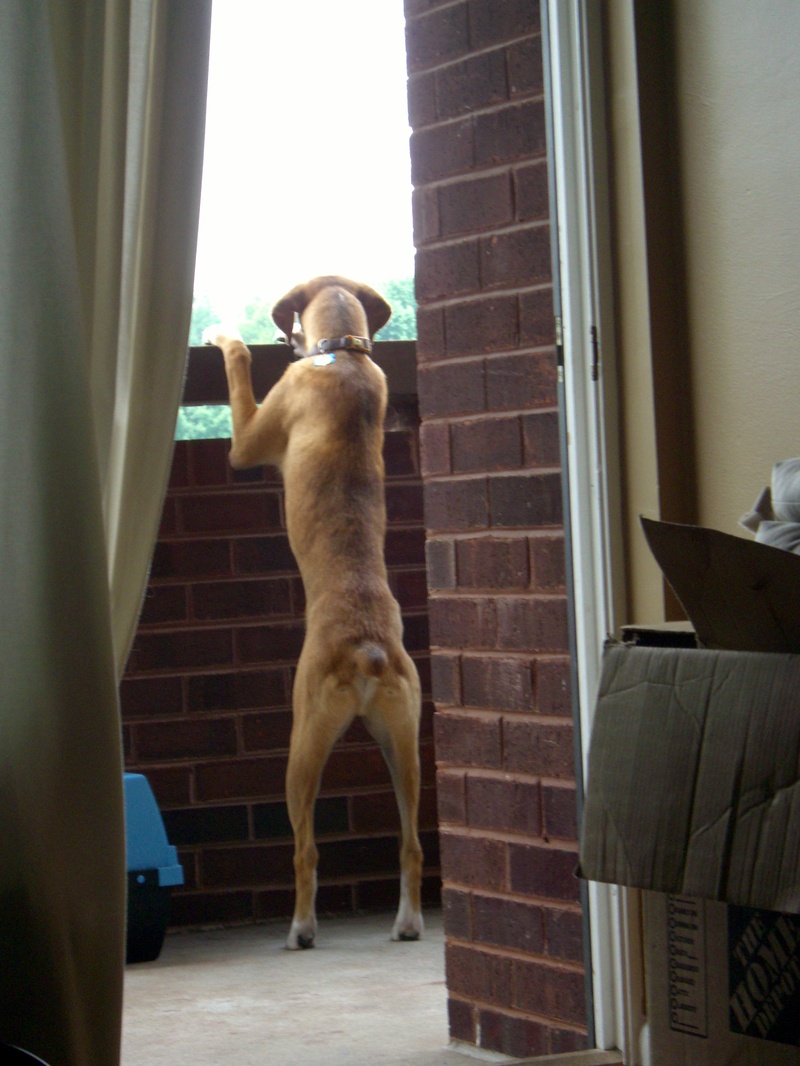 One of Conner's favorite new activities, attempting to see what is going on outside of the balcony.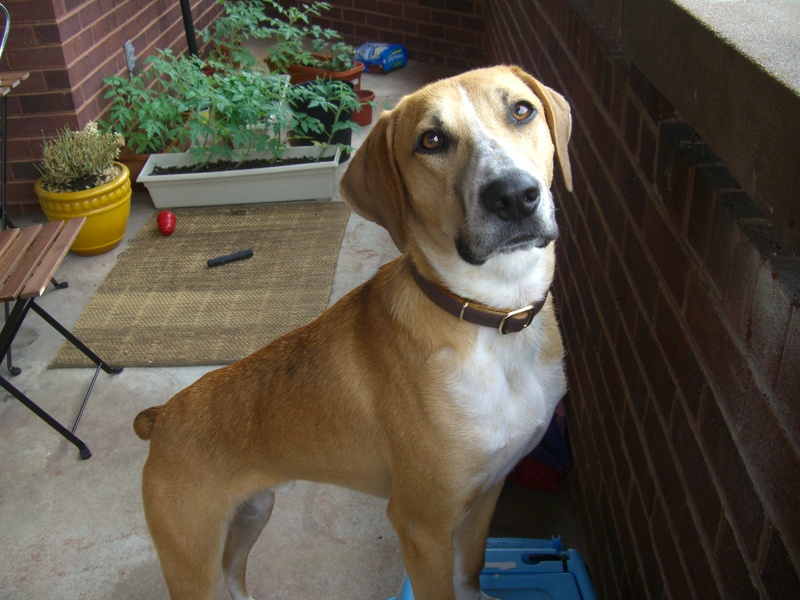 Conner being a handsome boy and posing for the camera.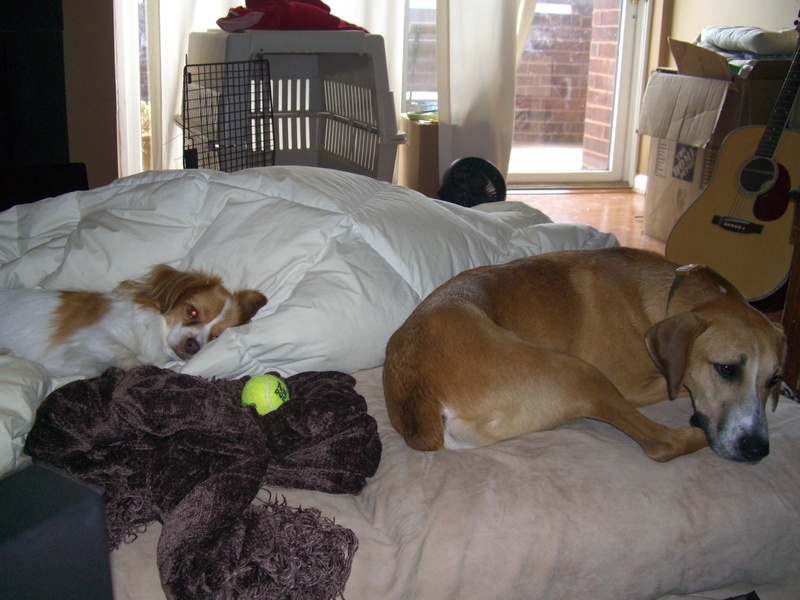 Conner enjoying a snooze on the futon (we have company in town) with his buddy, Iry.

| | |
| --- | --- |
| Posted by gooddogdc on June 25, 2009 at 10:57 AM | comments () |
Sorry I haven't posted in awhile, things have been really busy around here!  So, this past weekend, Conner had his first trip away from DC.  We took him with us to visit my family in North Carolina.  It was a 5 hour car ride, and he did great!  He did not get carsick or whine or bark in the car.  We just packed him up in his crate and loaded it in the back of the car and he was good to go.  When we got to NC, we stayed with my sister who also has two dogs, a Pit/Lab mix and a Chihuahua mix.  Conner, of course, got along well with all of the dogs.  The Chihuahua decided that she was going to be the boss of him though, and she completely controlled where he went for the whole weekend - it was really funny!  He was completely submissive to her. 
At my sister's, he found this squeaky Kong doughnut shaped toy (that looked like a tennis ball).  Conner loved it!  He carried it around with him all weekend.
I also gave Conner his first bath, I have been using waterless shampoo to keep him clean.  He hated it, poor guy!  He was just trying to get away.  I think that it had alot to do with the fact that I was washing him with a hose.  The water was cold and it was spraying out pretty hard.  He might do better with warm water poured over him from a bucket next time.
So, all in all, the trip to NC was a huge sucess.  Conner was out pretty much the entire time, and he was very well behaved.  I think with all of the activity and other dogs, he was less interested in being mischevious and more interested in what everyone was doing.  The one thing that I did catch him doing twice was trying to chew on little loops of the carpet that were different from the rest of the carpet, they were a little raised up.  So, if you have carpet (I don't, and I don't think that he has ever seen it before), you may have to be extra vigilant the first few days to teach him good manners.
When we got back from our trip, we were going out one night, and I put Conner away in his crate.  Apparently, I didn't make sure that it was latch all the way (the bottom latch on our crate is broken and really hard to get in) because when we got home, Conner was out of his crate and sleeping on the couch.  There was a bag of rawhides that he had finished off (probably 6 left), an almost full bag a blueberry treats that he demolished, and his bag of food, which was still intact but on the floor - I guess after all of the rawhides and treats, he was to full to work too hard at getting to his kibble.  In his defense, all of these were left right on the counter (easy access for a tall dog).  The good news is that he was just asleep on the couch when we got home.  Also, NOTHING else was damaged - the cushions, furniture, and trash were all intact.  What a good boy!

| | |
| --- | --- |
| Posted by gooddogdc on June 15, 2009 at 12:22 PM | comments () |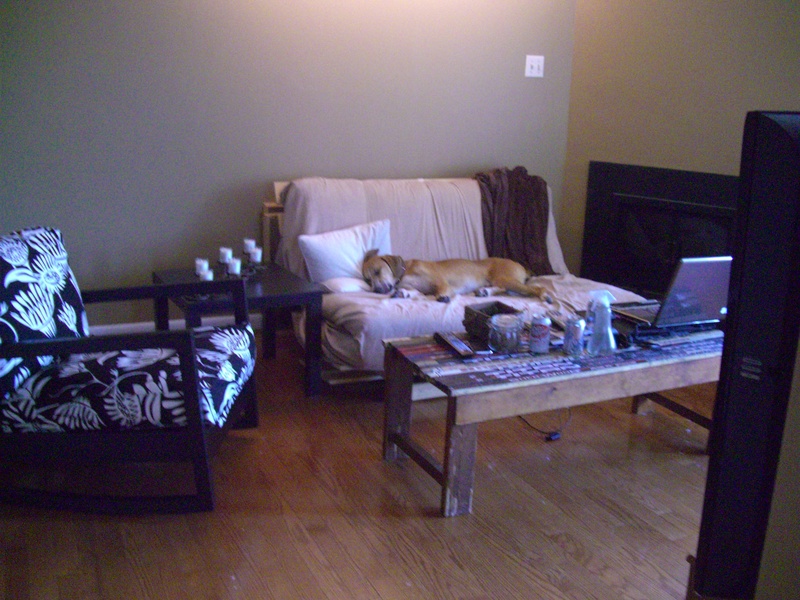 So, I have been gradually extending the amount of time that Conner is left outside of his crate with no supervision.  Today was the longest that he's ever been out when I am not in the room.  I was a little nervous that he would chew something up, but he's done well so far.  I decided to leave him out while I took a shower and got dressed today (around 45 minutes).  I thought that he would cry/chew the whole time, but I came out and he was passed out on the sofa!  I snuck back to my room, grabbed my camera and snapped a few pictures before he woke up.  Did I mention that we haven't been allowing him to get on the furniture?  When I walked in, he jumped right down, wagging his tail!  He is so funny!  Mostly, I am so proud of him for not getting into anything!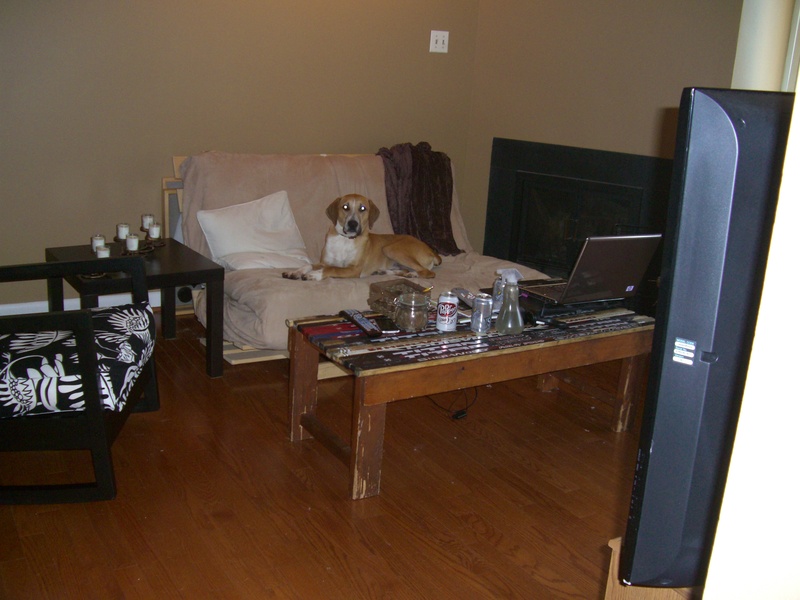 Conner trying to decide whether he should jump off of the sofa right away (because we never let him on the furniture), or whether he should stay (because he was probably pretty comfortable).  He ended up jumping off when I walked closer to the sofa :).

| | |
| --- | --- |
| Posted by gooddogdc on June 13, 2009 at 4:32 PM | comments () |
Now that Conner's wearing his "Adopt Me" bandanas, he is getting LOTS of new attention.  He is still a little shy though, but, hopefully, all of the positive attention will show him that strangers are nice and not scary! 
He has also put on a few pounds, and his fur is looking especially nice now that he is eating a high quality dog food.  I think that might also have something to do with all of the new attention.
| | |
| --- | --- |
| Posted by gooddogdc on June 8, 2009 at 2:11 PM | comments () |
As Conner has begun to settle into his new life, we are definitely starting to see a lot more of his personality coming out.  He is a young dog (my guess is that he is around 1, maybe a little older).  Conner, like most adolescent labs wants to put his mouth on everything.  So he would go best to a home that is familiar with mouthy breeds (like retrievers).  You can use that to your advantage though because if you ever want to keep him entertained for awhile, just give him a rawhide.  He loves nothing more than a good chew!  However, "puppy proofing" the areas that he will have access to is a must.  Conner does still respond quite well to an "eh, eh" if he is doing something that he is not supposed to. 
He is also still doing very well with his obedience.  We are working on an extended down stay, which is a little hard for him because he has so much curiosity and energy - but, I have no doubt he will figure it out by the end of the week, he is SO SMART!  Sit, down, and leave it are easy for him now.  He finally figured out the "crate" command (although, he still has a little more work to make it perfect).  "Wait" is another one that he is working on (we make both dogs "sit" and "wait" before any doors are opened).
We did have a little issue today, where he tried to ambush my 6 year old, 15 lb Corgi mix with a pounce.  She did NOT appreciate it.  Conner loves other dogs, and he loves to play.  Most of the time he is perfectly well mannered around her in the house.  However, occassionally, he tries to play with her "big dog style" and doesn't seem to understand the size difference.  Conner would probably do best in a medium-large dog household (which he would LOVE), or as an only dog (which he would also love, provided he got to go to the dog park once in awhile!).

| | |
| --- | --- |
| Posted by gooddogdc on June 3, 2009 at 2:16 PM | comments () |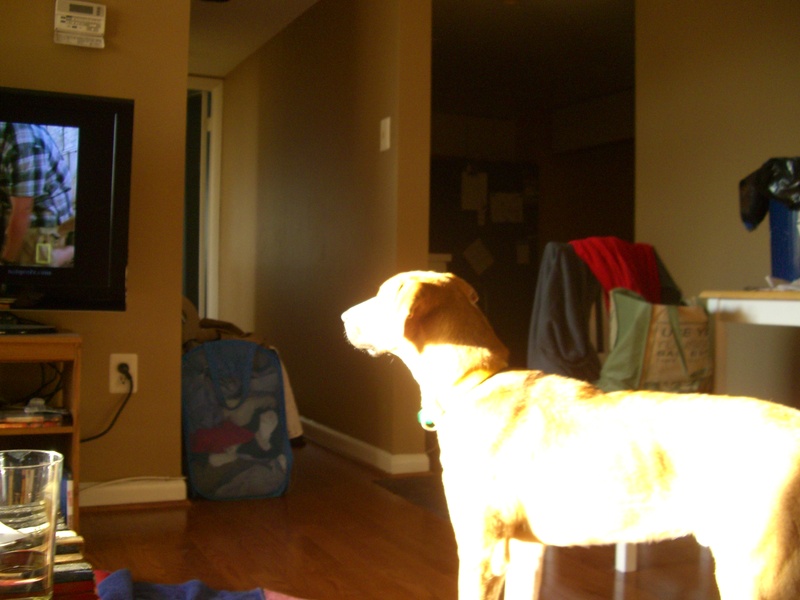 Conner watching TV!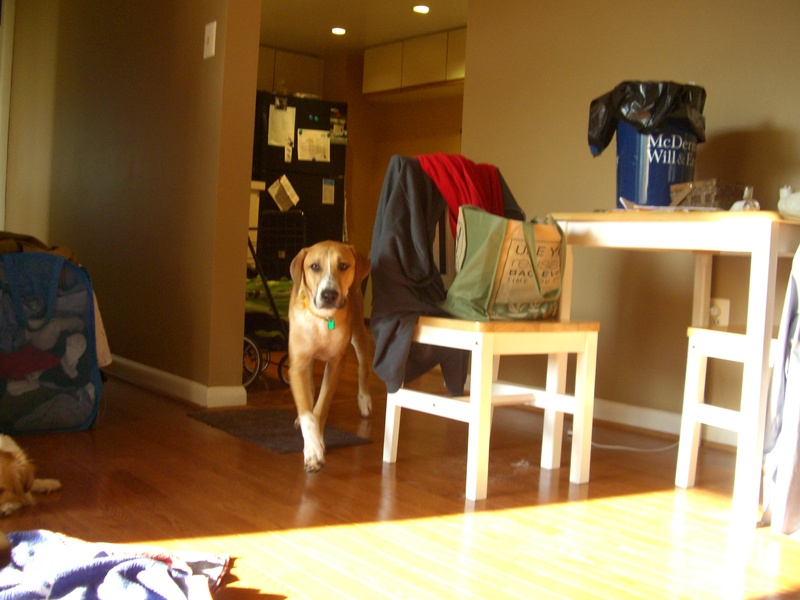 Conner responding to a "come" command.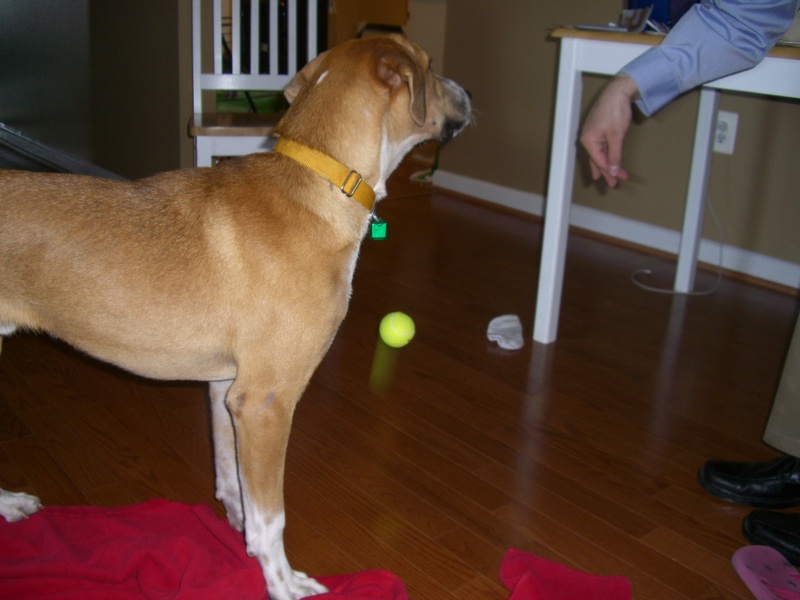 Conner waiting to be told what to do next, so that he can get a treat!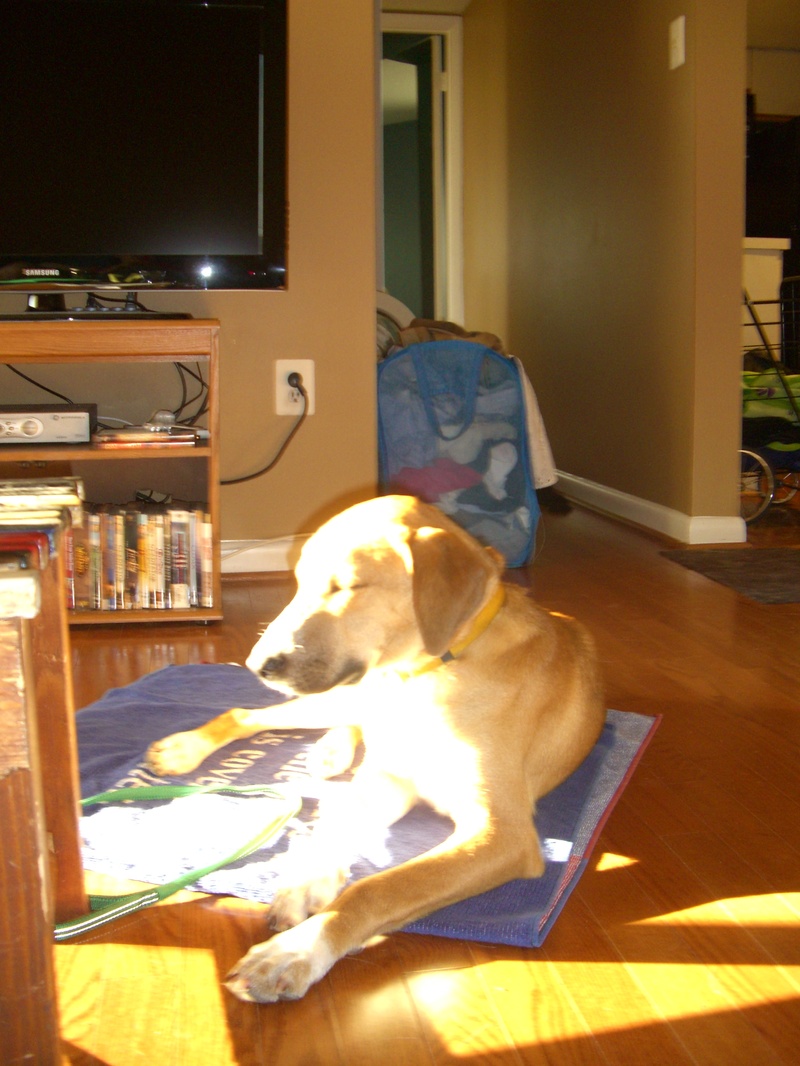 Conner enjoying the good life!
| | |
| --- | --- |
| Posted by gooddogdc on June 3, 2009 at 1:44 PM | comments () |
I just wanted to make everyone aware that Conner does have two medical issues: 
One, he is recovering from heartworm treatment and will not be fully recovered until August 30th.  That means that he can not run, jump, play, or do anything else that could potential elevate his heartrate to dangerous levels.  However, he can go on leashed walks and one of his favorite activities is to sniff around in the woods across from our house.  A rep from Homeward Trails also assured me that almost all of the dogs that they treat for heartworm recover fully and are 100% normal after the treatment and recovery period.  Also, I just want to mention that heartworm is not contagious between dogs in the same household, so you don't have to worry if you have other dogs (trust me, I would NEVER put my own dog in danger).

Two, they think that Conner was hit by a car at some point.  He apparently has some damage to one of his legs, but if you look at him you would never know.  He walks around and looks just like a normal dog.  He is due for another vet checkup soon, which will let us know if he will ever be able to be a jogging/running companion.
On a lighter note:  He is doing great in his adjustment period.  He barked for the first time today when there were maintenance people in the hallway.  After I called him to me, he quieted right down.
He still is very good in the crate with no barking.  He did cry for the first time last night, but I think that it was because he is not used to having all of the lights off.  We turned the kitchen light on low, and he quieted right down and went to sleep.

Together we are working on sit, down, stay, leave it, come, touch, look at me, and crate.  The crate command is definitely the hardest one for him at this point (we will get there though!).  Conner is doing spectacularly at all of the other commands - he is very good at intuitively understanding body language. 
I have also begun desensitizing him to a head collar.  He rarely pulls and is very responsive to the leash, but he still gets spooked occassionally if we are crossing Connecticut and a big truck drives by (especially firetrucks!).  The head collar will give me much more control to help him calm down, especially when I am walking both dogs.
All in all, I think that Conner is having a GREAT time in his new life!  He loves rawhide (I don't think he's ever had one before now), and will carry it around in his mouth, even on walks if you let him!  He LOVES mealtime and is very good about waiting to eat until you say it is okay.  He LOVES other dogs and all of the people that we meet on our walks.  Conner also loves tennis balls, but those will have to wait until after his recovery period because he gets so excited about them!  He will carry it around in his mouth, drop it, and pounce on it in a play bow over and over again.  We have hardwoods, so the ball goes flying when he paws at it and he loves it!
As each day goes by, we are growing closer and closer to Conner.  He is SUCH a good dog!  We love having him here, and we are happy to keep him until he finds a wonderful home of his own.
If you are interested in adopting Conner, please email me at
[email protected]
or you can call me at 202-341-5302.
| | |
| --- | --- |
| Posted by gooddogdc on June 1, 2009 at 8:28 AM | comments () |
So, Conner was not the dog that we thought that we were going to be fostering, but he's has turned out to be even better than we imagined.  See how cute he is!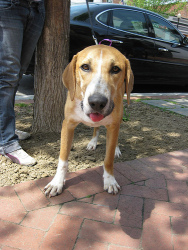 The rescue says that he is a lab/black mouth cur.  I am currently working on putting some wieght on him because (as you can see in the photos) he is definitely too skinny! 
About Conner: He has been with us for two days, and he has been wonderful. 
Conner did NOT get sick in the 30 minute car ride home (although he did drool a little!).  He just put his head down and rested until we got home.
He is great in his crate - he doesn't have any accidents, whine, or bark.  He actually has not had any accidents in the house at all!  When we take him out, he usually goes pee right away and poops after a couple of blocks.
On leash, he walks wonderfully!  He barely ever pulls, and when he does, he responds to the slightest pressure to come back to you.  I don't think he has been in a city before though because everything seems new to him.  You can almost see him thinking as he watches everything.  He is interested in squirrels and birds, but , so far, he has not chased them.  He just looks.
So far, he is great with other dogs and all of the people that he has met.  I have a small Corgi mix, and he is very good with her.  On walks, people often pet his head in passing (because he is so tall) and he just takes it all in stride. 
Things he is learning: Conner is learning about houses in general.  The first time that I turned on the TV, he cocked his head and just watched and listened.  It was really cute!  He also is learning about household noises.  He still perks up if the air conditioning turns on and off.  He is also learning that countertops and furniture are off limits - a quick "eh, eh" generally does the trick, and he is trying less and less.
Conner is also learning about good manners.  We are working on name recognition (we changed his name from Flipper), waiting patiently to eat, come, sit, down, touch, and many other things.  He is a very fast learner (must be the lab in him!).
Traffic is another thing that he is learning about.  The first time that I tried to take him across Connecticut Ave, he didn't want to go.  Now, he goes willingly, but stays pretty close to me.
He is learning not to investigate pockets.  I think that he is used to people having treats in their pockets, so he constantly wants to "check out" peoples' pockets.  This habit is fading pretty quickly, but sometimes it startles people on walks.
He is also learning how to cuddle.  Conner is a little shy of hands reaching out towards him, but he loves belly rubs/scratches, and he is learning how to love petting/cuddling in general.  Poor guy, I don't think that he was cuddled too much in his past life!  He is so sweet though, and he will walk over and just place his head gently on your lap. 
Conclusion: Conner is a wonderful dog!  I bought these "Adopt Me" bandanas for him, but I have been teasing my boyfriend that I will not put them on him because I know he will get adopted so quickly, and I want to spend more time with him!
That being said, if you are interested in adopting Conner, please email me at [email protected] or you can call me at 202-341-5302.  Thanks!
/