Shopping Cart
Your Cart is Empty
There was an error with PayPal
Click here to try again
Thank you for your business!
You should be receiving an order confirmation from Paypal shortly.
Exit Shopping Cart
So, it's been awhile since my last entry.  Unfortunately, after a couple weeks of caring for Charlie, I was exhausted and needed a break, so I took Charlie back to the shelter.  After a few weeks at the shelter, Charlie's favorite volunteer decided that she would foster Charlie for a bit.  She has sent a picture below. 
While we have had a lot of interest in Charlie, we have not found the right home yet.  Please be aware that while Charlie is very smart and obedience 95% of the time, 5% of the time he is an extremely challenging teenager, so he will need owners who are experienced or very willing to learn how to work with dogs.  Also, he can still only hold it for about 3 hours or so that we know of, so keep that in mind too.  I think he could probably hold it for 4 hours in a crate, but would need to do something else for the other half the workday, like go to work with you or stay with a friend, so that he didn't get super bored.
Look how cute!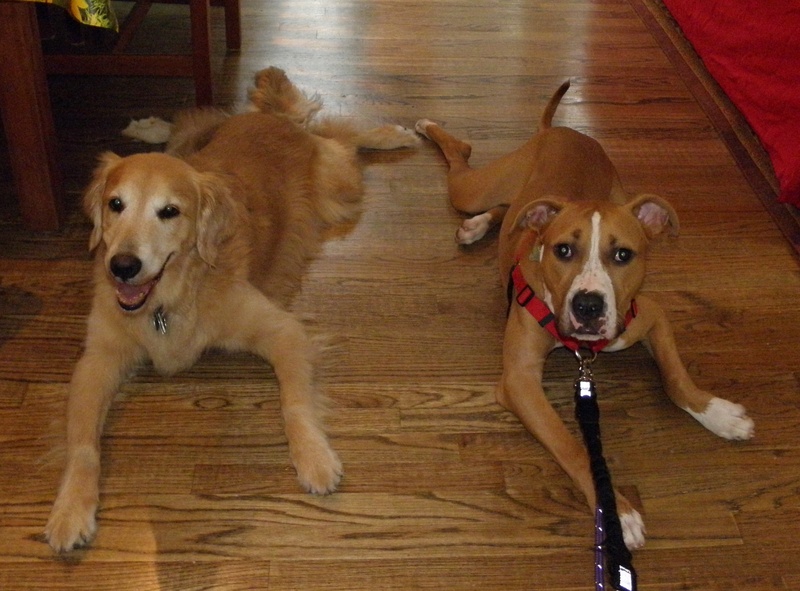 Baby Charlie, around 4 months...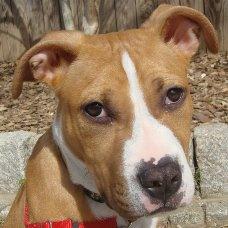 Look at that sweet face!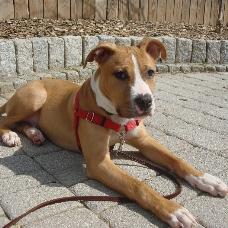 What long legs for such a baby!  He has finally (almost!) grown into them.
*Please email my foster mom at [email protected] if you want to know a little more about me. I hope to meet you soon! ~ Love, Charlie
As promised, here at the photos from the farm in the Shenandoah Valley.  My fiance and I were their with his brother, mother and father.  Charlie got along with everyone.  We try to take all of our fosters to the farm at least once if we can and they love it.  It is doggy heaven!  There are bugs to chase, creeks and kiddy pools to swim in, cows to watch, and best of all, lots of room to RUN!!!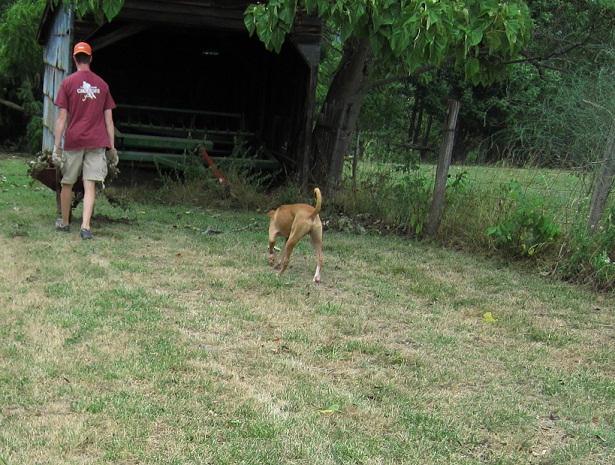 Charlie Working Away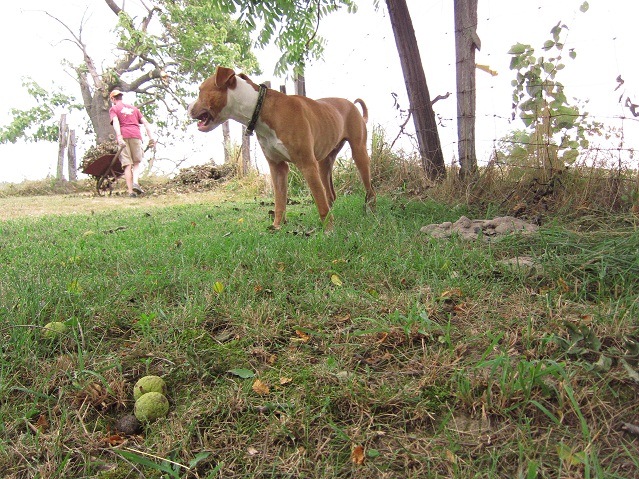 Charlie keeping an eye on his new friend, ready to help at anytime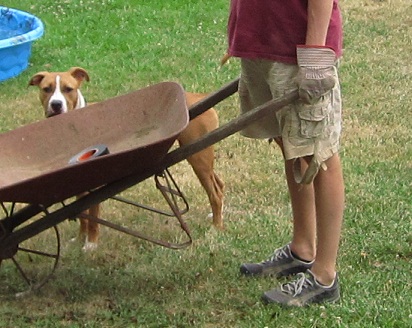 Charlie supervising the yard work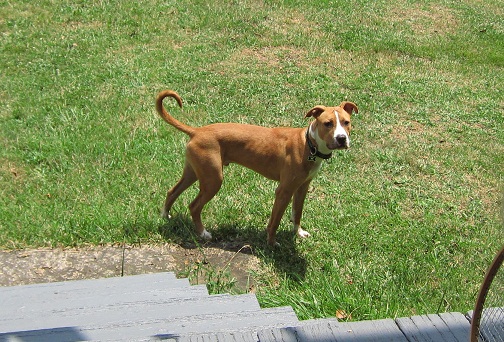 Charlie checking in
Charlie working on his retrieves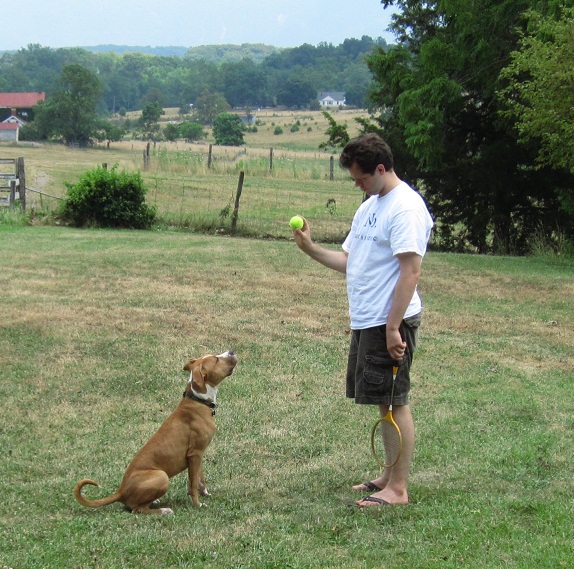 Charlie waiting for the ball to be thrown, working on building up his ball drive!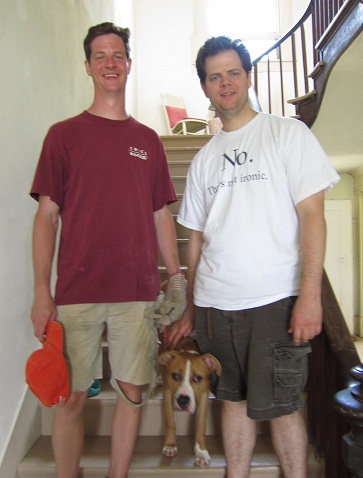 Charlie with the guys.  He was really happy here hanging out with his friends (running up the stairs) until "mom" came to make everyone pose for the perfect picture and interrupted all of the fun activity - look how annoyed he looks!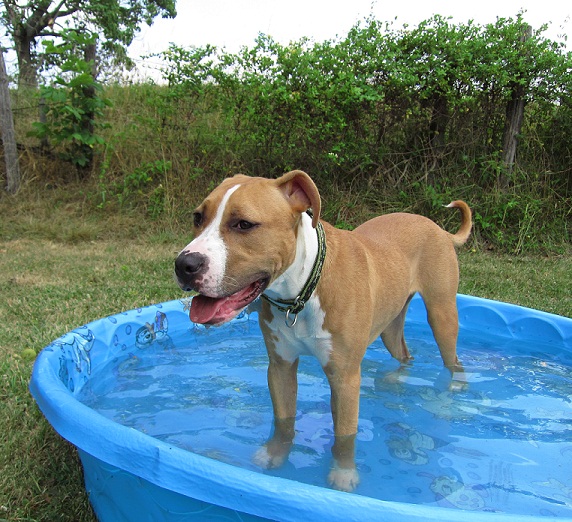 Charlie cooling off in the pool!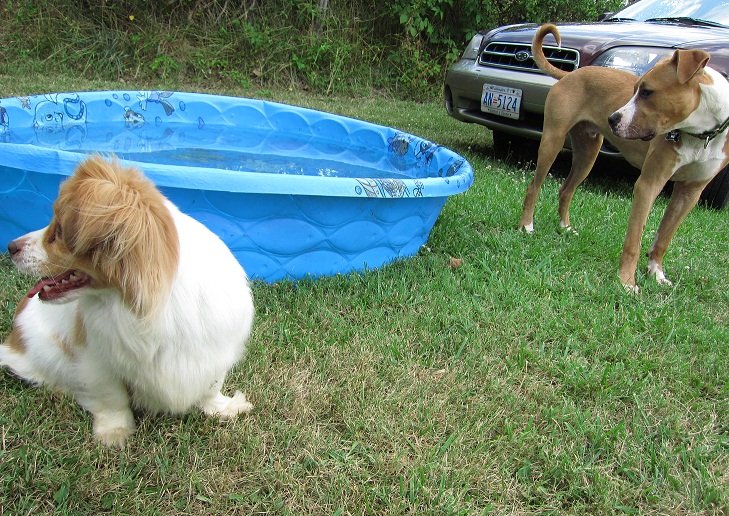 Charlie hanging out with his foster sister and watching the cows together
Charlie waiting politely for dinner at home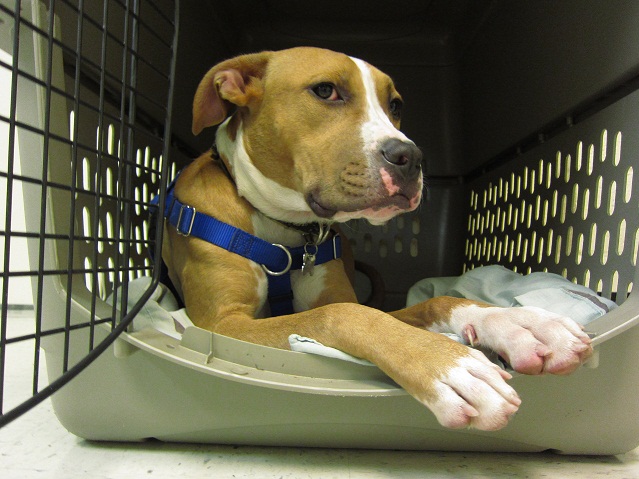 Charlie was exhausted the next day at work after going to the farm - he slept ALL day!
*Please email my foster mom at [email protected] if you want to know a little more about me. I hope to meet you soon! ~ Love, Charlie
Leave it (practice daily) – back away from whatever you are interacting with
Back – back away from me or a door
Kennel – go into a crate and lay down
Down WAIT – stay here in a down until I release you with an "okay!", practice for .5-2 hours at a time 
Sit WAIT – stay here in a sit until I release you with an "okay!"
Stand – stand on all four paws
Charlie – look at me
Charlie, here! – recall (only practice on a long line for now OR if you are sure he will come)
WAIT – stay right where you are, use at all doorways and before releasing from crate
Ouch! – use when he mouths skin, means let go and stop playing immediately
Enough! – stop playing and lay down
Up! – jump up onto something or into the car
Okay! – release word, use when done with a wait, before he can get out of the car, before he can get out of his kennel, etc
Collar grab and treat – don't run away when I reach for your collar
Handling exercises (touch everywhere) – especially cheeks, tail base, and paws
Loose leash walking – stop when he pulls out ahead and don't go until he loosens the leash or walk the other way when he pulls ahead
*Please email my foster mom at [email protected] if you want to know a little more about me. I hope to meet you soon! ~ Love, Charlie
Charlie met his first kid today!  She was very calm and so he was very calm with her.  He did have to be corrected with an "eh, eh!" a couple times for starting to mouth her, but all in all, I couldn't be prouder of him!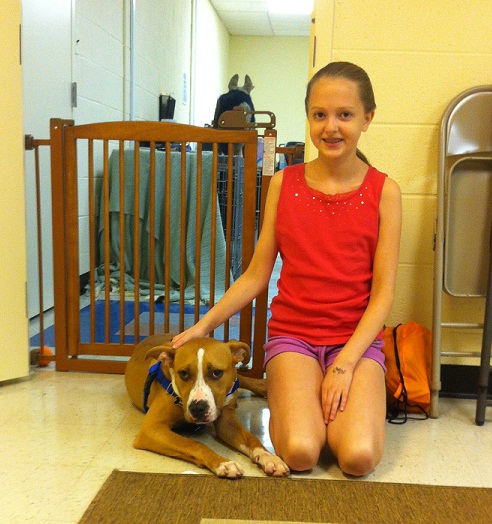 I also found out today that Charlie may have a skin condition which has been making him itchy.  This is easily treated with antibiotics (which he will start tomorrow), but also may explain his mouthiness at the shelter.
*Please email my foster mom at [email protected] if you want to know a little more about me. I hope to meet you soon! ~ Love, Charlie
So good.  Yesterday we went on a great trip to the farm in the Shenandoah.  Needless to say, Charlie had a BLAST.  All that freedom was really fun for him, and the kiddie pools kept him nice and cool.  Pictures will follow soon.  Until then, here are a couple to tide you over :).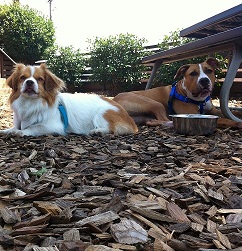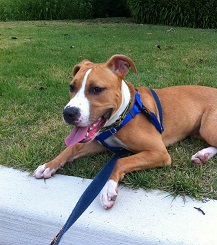 *Please email my foster mom at [email protected] if you want to know a little more about me. I hope to meet you soon! ~ Love, Charlie
Charlie came to WARL as a stray at 4 months old.  Someone had left him tied to a lightpost.  We think that he had been left their for almost two days.  He was shy when he first came in after his terrible ordeal, and we all grew immediately attached to this super wiggly, submissive pit puppy.  As the months went on, Charlie grew increasingly confident here at the shelter.  Unfortunately, he also learned some bad habits.  It is very hard for a teenage dog to deal with the inconsistencies in a shelter setting where they interact with so many different volunteers, staff, and visitors.  As adolescents, they are trying to figure out where they fit in the world - can you imagine trying to figure out where you fit in a world of hundreds of constant rotating people, many of whom are strangers?  Needless to say, Charlie soon learned that he could control people with mouthing, humping, jumping, and other obnoxious adolescent behaviors.  After a month or so of these shenanigans, Charlie was pushing his luck.  In order to get him back on track to the dog that I know he is, I decided to take him home to foster "boot camp" and get him back in tip top shape.  So far, he is exceeding all of my expectations.
Here is his current website description: 
Hi there! My name is Charlie and I am a teenage pit mix. Although, because I love to sniff and I love to play with my paws, my foster mom thinks I must also have some boxer and hound in me. She says that it would be fun to get me DNA tested one day to know for sure.
My favorite thing in the whole world is being around people and other dogs. I love my foster dog sister Iry. My foster mom always laughs at me because she says I am in love with an older woman. Even though my foster dog sister sometimes tells me to get lost, I still love her. I'm not sure why she is so grumpy? My foster mom says I will understand when I am older. I also really enjoy running through the woods and playing in the water.
I am currently in foster care, and my foster mom says that I am a very sweet, loveable boy. She also says that she hopes that I can find new owners who will commit to my training because she thinks that I have lots of potential. My foster mom spends lots of time training me, and I love training! I am learning lots of things, and after only 1 week in foster care, I already know: sit, down, stand, stay, leave it, back, kennel (go in your crate), wait (stay), up (to get in the car), and to wait politely for my food bowl. I am also crate trained. I am working on coming when called and loose leash walking, but it is hard when there are so many interesting things in the world to go and see!
The other thing that my foster mom insists on is peeing and pooping outside. She takes me out every 2 to 3 hours, and because she tries so hard, I always hold it until we get outside. After I go potty outside, she is very nice and always gives me a cookie and lots of praise. I love it when she tells me how good I am!!!
After a long walk, we come inside and my foster mom lets me lay down near her on a blanket. She always gives me my favorite Nylabone or a stuffed Kong because she knows how much I like to chew.
I love being with my foster mom all day. I go to work with her and sleep in my crate or go to meetings with her. I am very good because I love going to work! I hope that my new mom or dad will be able to take me to work or stay home with me because it makes me so happy.
Because I am working on so many things and because my foster mom wants my new owners to love me as much as she loves me, WARL is giving me a free training class to take with my new mom or dad! Won't that be fun? I can't wait! My foster mom thinks that it is important that my new owners speak the same "language" as me, so that I have consistency. Not sure why, but she always tells me that I need a strong leadership program and that she hopes my new owners won't spoil me, so that I can be the best dog possible. I'm not sure about that spoiling thing, but my foster mom does a leadership program with me, and I love it!
Please email my foster mom at [email protected] if you want to know a little more about me. I hope to meet you soon! ~ Love, Charlie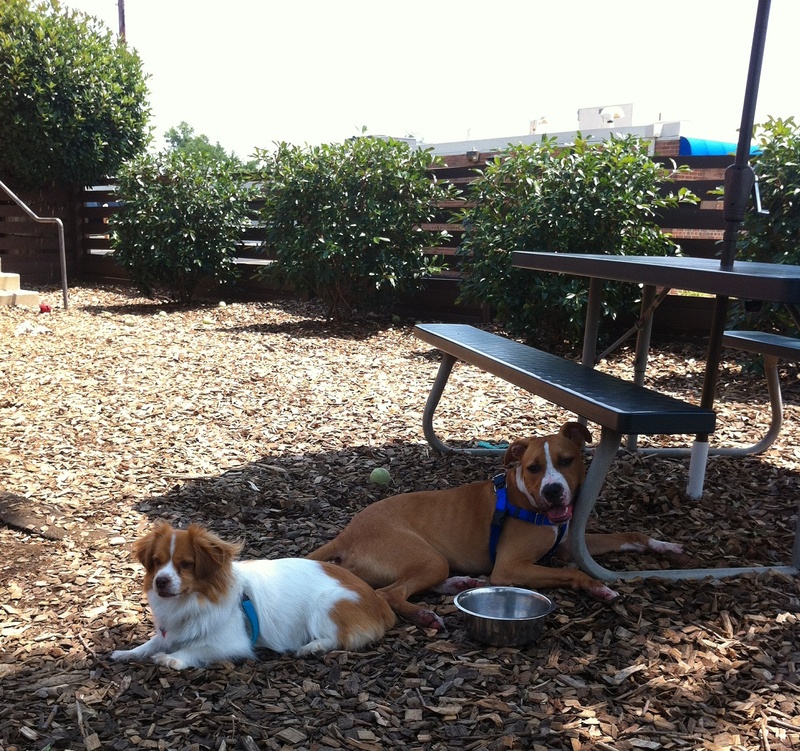 /