Shopping Cart
Your Cart is Empty
There was an error with PayPal
Click here to try again
Thank you for your business!
You should be receiving an order confirmation from Paypal shortly.
Exit Shopping Cart
Last night we had some TERRIBLE thunderstorms.  Chance was at work with me and decided the safest place for him would be cuddling with Iry in her bed (even though he has his own bed right next to hers).  He didn't ask Iry first though, he just jumped in on top of her, she ended up grumbling and jumping out of the bed.  I felt sorry for Iry, but it was also really funny!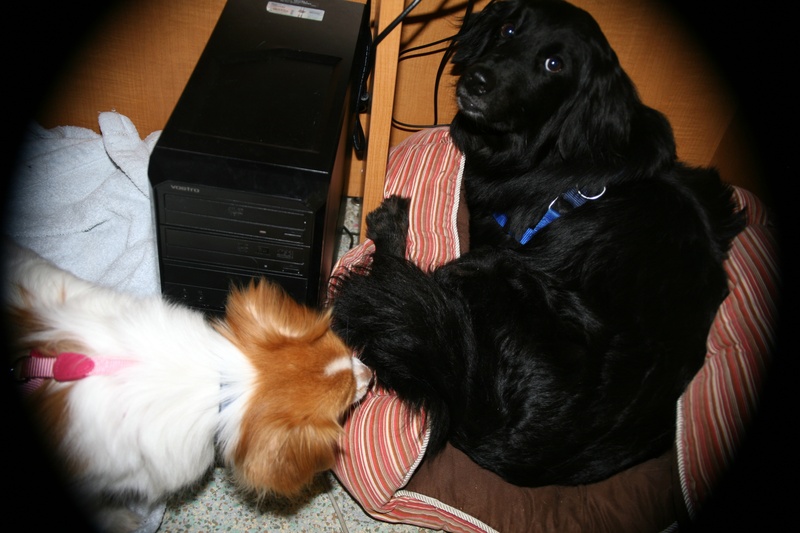 This is Iry trying to figure out just how she lost her bed...  And Chance looking innocent.

It's been awhile since I posted.  Things have been busy around here!  Chance is doing great.  I've been bringing him to work almost every day recently, this seems to be good and bad.  It's good because when he gets home, he is more outgoing than we've ever seen him - enthusiastic about going for walks, responding to training, and even playing a little with squeaky toys.  The downside is that he is still super stressed at work.  He pretty much shuts down while he's there and will not even go the bathroom at WARL until Iry, his foster sister is there or I grab a shelter dog to show him how it's done.  At work he is always scrambling to get away and hide and does not even respond to me, unless it's me saying "okay" you can go back to hiding under my desk.  I am going to continue to bring him at least 3 days per week.  I think it's good socialization and he will get used to it eventually I'm sure of it.
Now to the fun stuff!  Even though he is still really scared, his training is still improving.  He now "knows":
"Chance" - means look at my face
"Chancey, Chance" (in a sing song voice) - means come
An open palm - means touch your nose to my open hand
"Up" - means jump in the car
"Wait" - means don't move foward
"Okay" - means you are released, you can go now
"Sit" - this one is very hard for him, I still have to lure him with a treat and only have about a 20% success rate, even at home where he is comfortable
These all need lots more work before they are dependable, especially in stressful situations, but he is getting there!  His nice temperament makes him worth all the extra effort.
Another thing that Chance is still working on is learning to enjoy physical affection.  He is very scared when strangers try to pet him.  He doesn't even like for me to pet him; although, he tolerates me.  The one place he really does enjoy being pet is in our bed!  I hate having him in the bed, but my boyfriend loves having him there and he seems so much more relaxed.
We have definitely created a moster with the whole bed situation because now that is the ONLY place he wants to be.  There and in his exercise pen hanging out with his massive pile of loot that he has "found" all around the house and brought back to his exercise pens.  Here is a picture of him with his pile of treasures: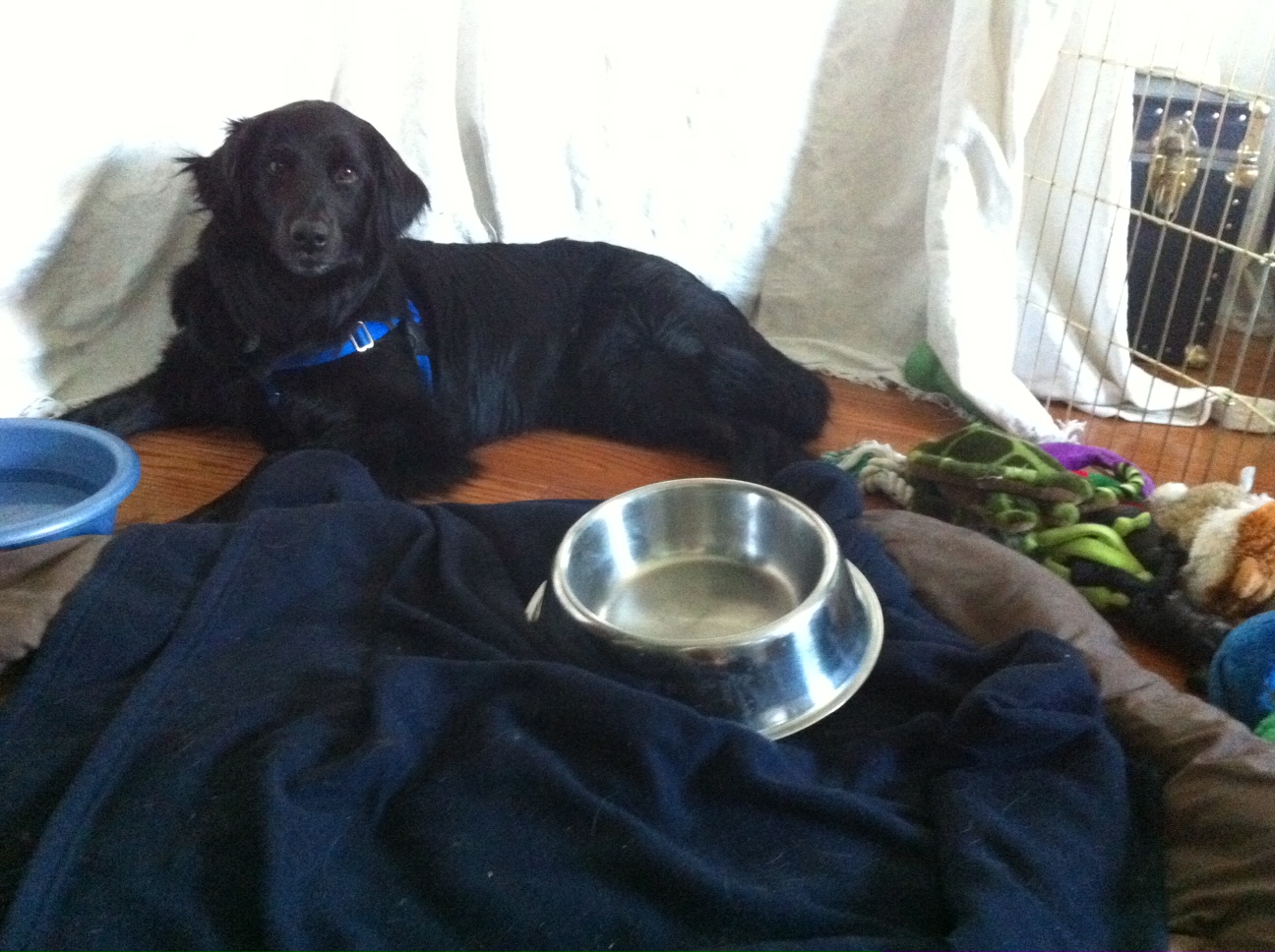 He still has a long way to go before he will be "normal" and he may never be comfortable in busy situations; however, in just 3 months, he has made incredible strides and is learning to enjoy being a pamperd pet!  He will stay on his anti-anxiety medication until he finds his forever home.  He will also need lots of gradual exposure to a variety of different situations.  At the end of the day, he is an AMAZING dog and I will only send him to the perfect home for him - he deserves it! 
Chance was adopted on Thursday, July 7th.  We thought that Chance had found his forever home.  Unfortunately, on Friday morning, I received and email that Chance had ran away from home!  My boyfriend and I immediately left work to head 3+ hours into VA to where he was last seen at his adopted home.
We consulted with a tracker who does search and rescue work and followed her advice.  As soon as we got there, Steve took off his undershirt and we cut it into lots of small pieces.  Steve, Iry, and I started I trail in the direction his adopters saw him run off in.  We walked 1.5 miles out into the muddy, tick-infested brush making a scent trail and leaving bits of t-shirt along the way.  We finished the scent trail and driving around a few hours later.  We were exhausted and covered in sweat and ticks (I must have literally pulled 15 ticks off of me and Iry).  Sadly, we drove home without any sign of Chance.  On the 3+ hour drive home, we planned to return the next day to check the local pound and put up posters. 
The next morning, I awoke to an email from the adopters that they had found him running close to where we left our scent trail and they were able to catch him!  With the stress of everything that had happened, his adopters decided they were not ready to have a dog, and we happily arranged to pick him up that day.  We drove 2.5 hours through traffic to pick him up in the parking lot of a Wegmans.  We immediately took him to PetSmart where I had a tag made for him.
Chance is a very loyal, sweet boy, but it will take TIME for him to build up trust in you.  After just over two months with him, he will come to me when I call him even off leash and will follow me anywhere, but it will most likely take a few weeks for him to even acknowledge you when you talk to him.  I have done a lot of work with him, but this is still a dog from a traumatic situation and it will take time for him to form a bond with you.  His new owners will need patience, commitment, and understanding to earn his trust and gain a loyal dog for life.  Until then, it is crucial that he wear a fitted ID collar (you should only be able to fit 2 fingers underneath) at all times and a Freedom harness on walks (we can give one to you).  His new owners should also understand that he loves to be outside and will try to bolt out of an open door. 
I am just happy that he is back in my care safe and sound!  We're just going to take it easy for this next week or two and let him enjoy foster life.  This morning, we went on his favorite trail in Rock Creek and his tail went up and was wagging the whole time - I am so glad he is safe!

The following photos were taken by a friend to help Chance get adopted.  Thanks Robert!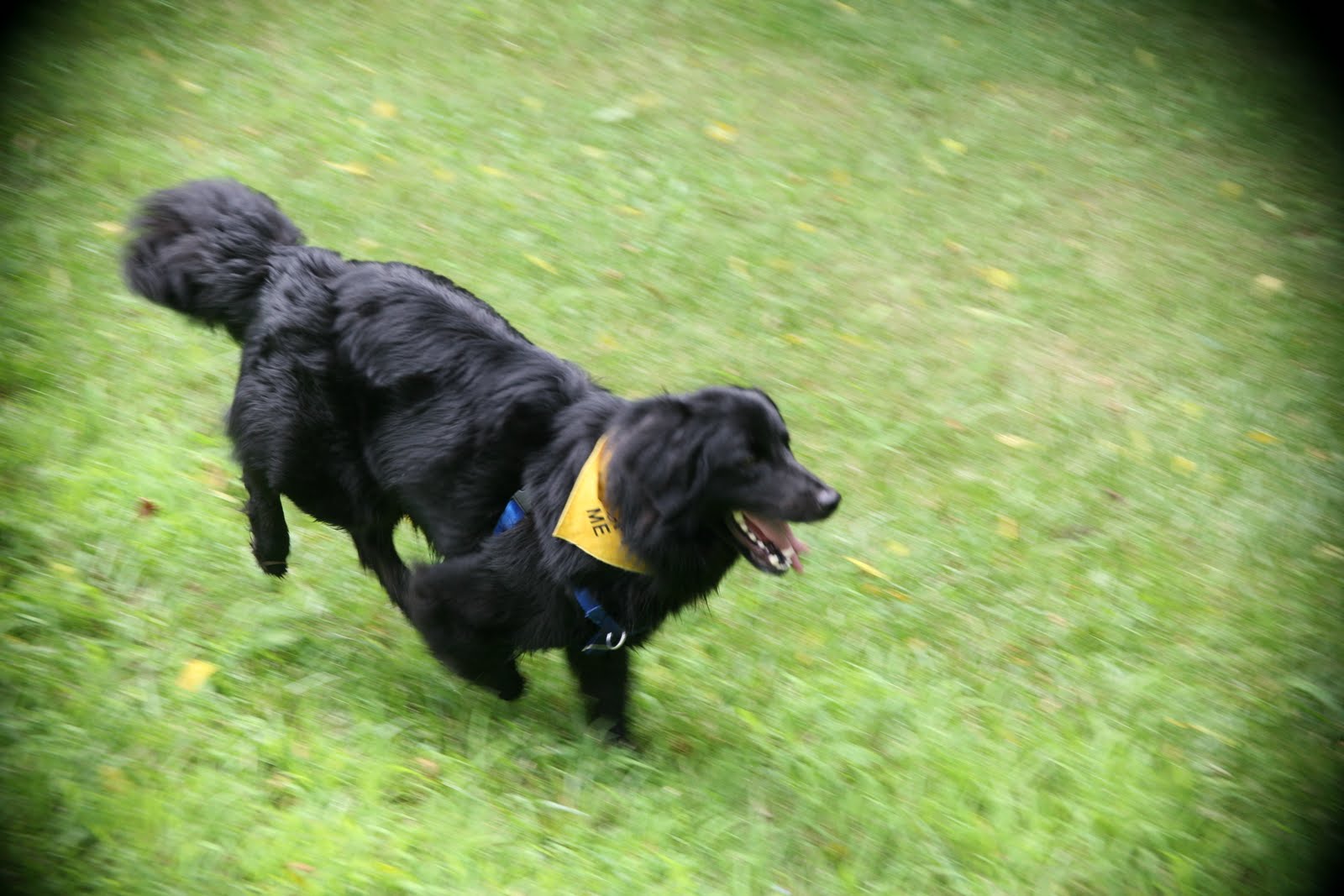 Chance in action at the farm.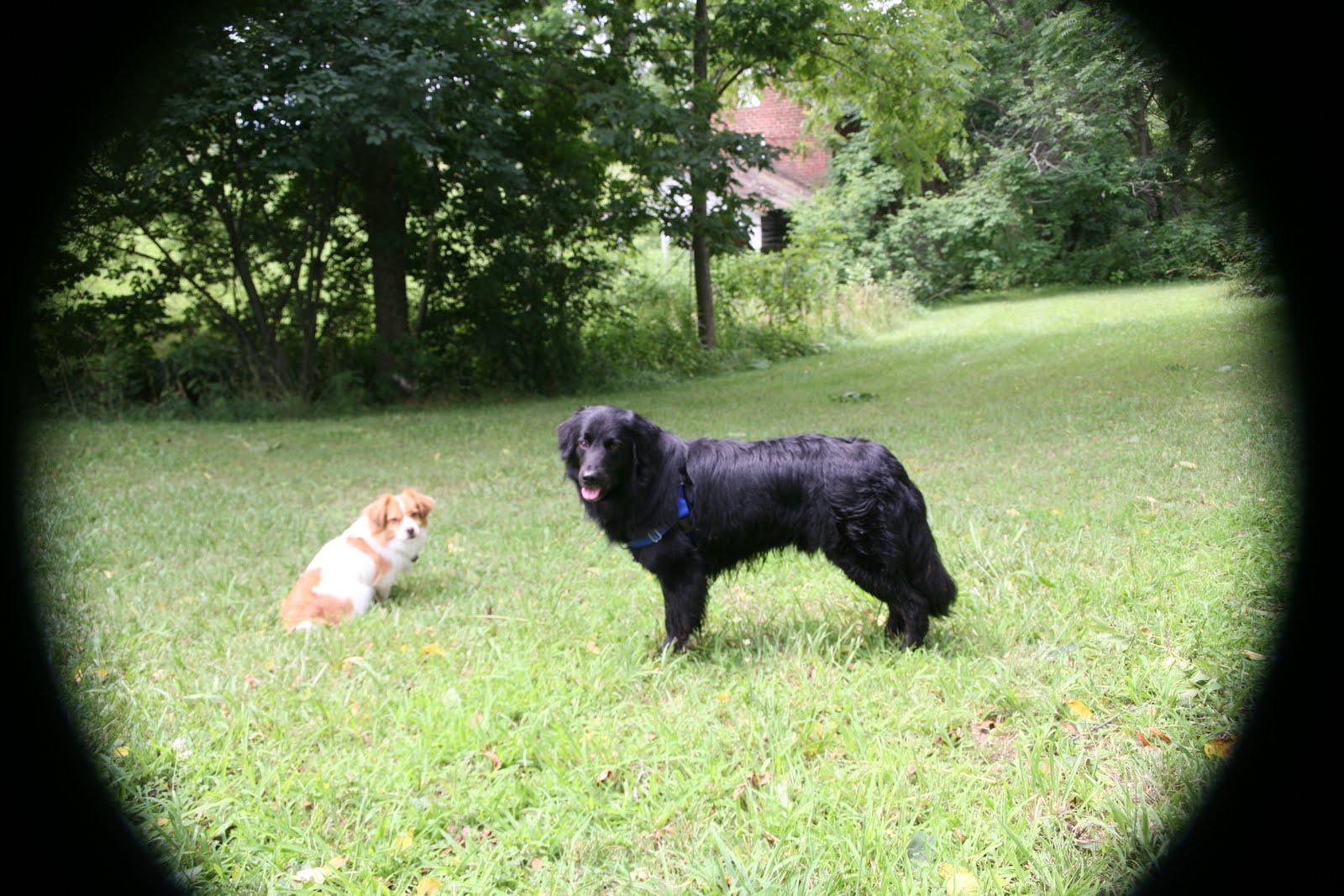 Chance and his foster sister.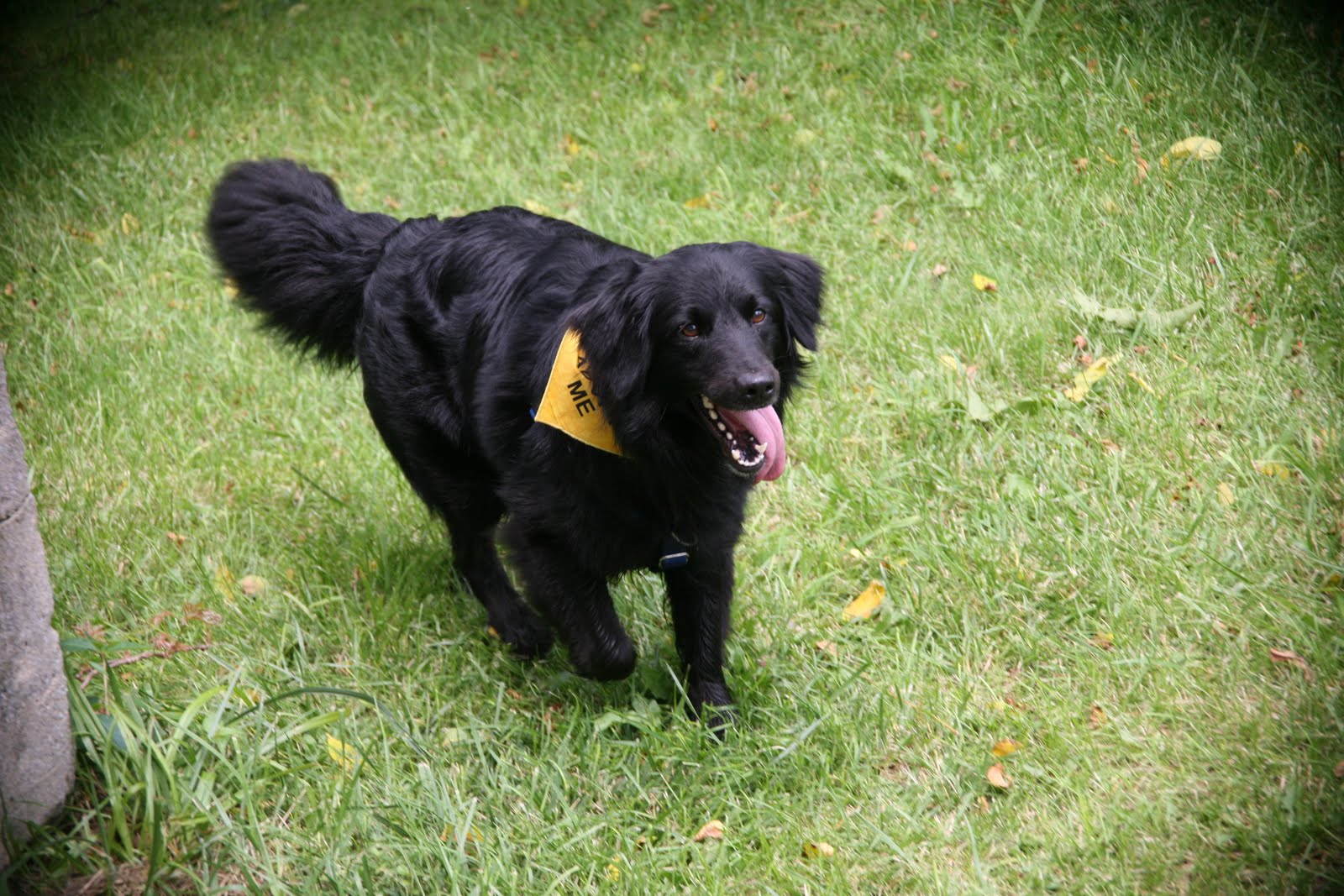 Chance smiling for the camera.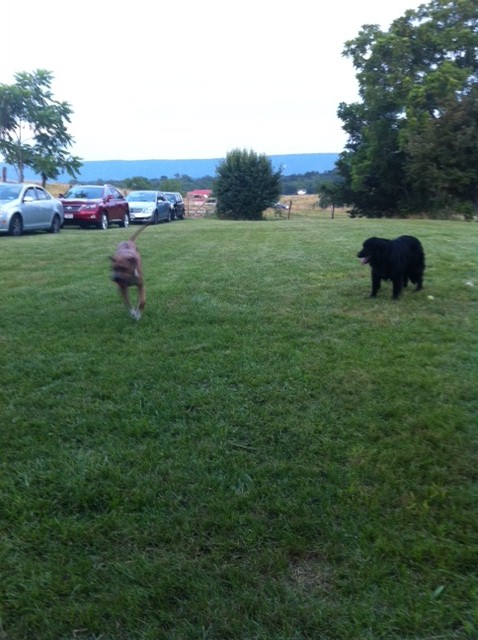 I don't have too much time to post right now, but I am so proud of Chance that I had to take a minute and share.  This weekend we headed out to the Shenandoah Valley with a bunch of friends and family (including two toddlers and two other dogs).  Chance did AMAZING!  He was off leash the whole time and avoided the strangers, but followed me and my boyfriend around consistently.  He came when called and his tail was wagging pretty much the whole time.  He would run around the back of the house we were staying in, down the hill, jump in the creek, I would call him, then he would sprint up the hill and jump in the kiddy pool in front of the house.  He probably did that circuit 10 times.  He was exhausted!  He even played while he was there, we discovered that he really enjoys chasing sticks.  Above is a picture of him and his buddy Ricky and below is a picture of him with his foster sister, Iry, exhausted on the car ride home.  Fun weekend!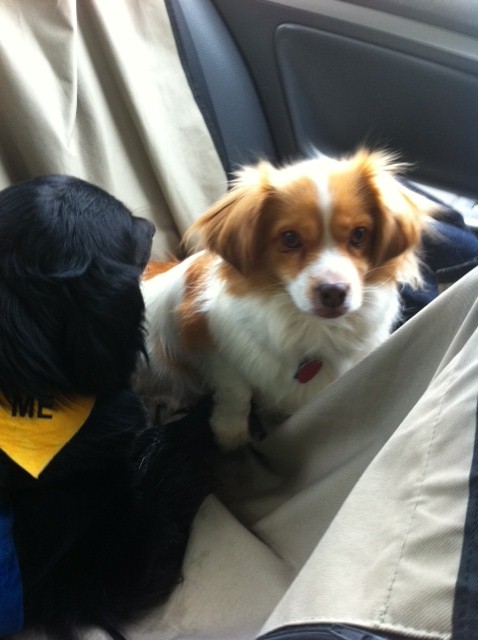 Even though he gets scared going to new places, he LOVES to come with me.  He gets really excited if he thinks we might be heading to the car.  Inside the car, he pants some, but is generally very well behaved.  He comes with me to work a few times a week.
Chance is still doing great!  It's taken me awhile to update his blog because things have been so busy.  Plus, he is really easy to take care of, so it has been difficult to motivate myself to post to this blog.  He is still making plenty of progress.
He got to stay home (as opposed to coming to work with me) last week because my boyfriend was home and he seemed to really enjoy that!  He has developed a really strong bond with my boyfriend, which is funny because he was terrified of him at first. 
Chance now will wag his tail when he sees us and he will inch forward to us for pets.  If we have a cookie for him or dinner, he flies down the hall at full speed to take treats or gobble down his food.  He knows that "Chanceypants!" means that he is going to get a treat and will come to us in the apartment when we say that.  He loves food and his Kong toys! 
He is still nervous on Connecticut Ave, though that is probably a lot our fault because we enjoy walking in Rock Creek as much as he does, so we walk there almost exclusively.  He loves to get in the creek and he loves to go on short jogs/runs with my boyfriend.  I will try to take some pictures of him in the creek next time we go, he is so cute and prefers to walk through the creek instead of on the trails.  He is still getting in shape though and can't do much more than .5 mile to 1 mile of running.  I think he will probably be able to do more once the weather cools down.  When he runs, his tail is always up and wagging and he gets this goofy smile on his face.
We joke around that he is our little magpie because any clothing item that we leave on the floor he will snatch when we are not looking and take it back into his exercise pen.  He loves things that have our scent on them.  It's been a good reminder to not leave clothes on the floor! 
He has started to show interest in toys.  Although he is still not really sure what to do with them and can get intimidated, I'm sure he will enjoy them eventually!  My boyfriend was able to get him to play with a ball and they were tossing it back and forth - too cute!

He is completely housetrained and very quiet in the apartment which is a huge plus for us because we live in a city condo.  We've also taken him to my boyfriend's parent's house with a travel (pop-up) crate and he did great, he mostly stayed in the crate the whole time but also came out and visited with everyone when we first got there.
Chance is an amazing dog!  Since he is shy and came from a traumatic background, he would do best in a home with owners who were committed to helping him continue to improve and who have the time to help him with his training.  He would love to live in a quiet household.  While he often comes to work with me, I believe he would be happiest staying at home most of the time and not traveling too often, provided he could get enough attention from his owners.  That being said, he loves to go for car rides!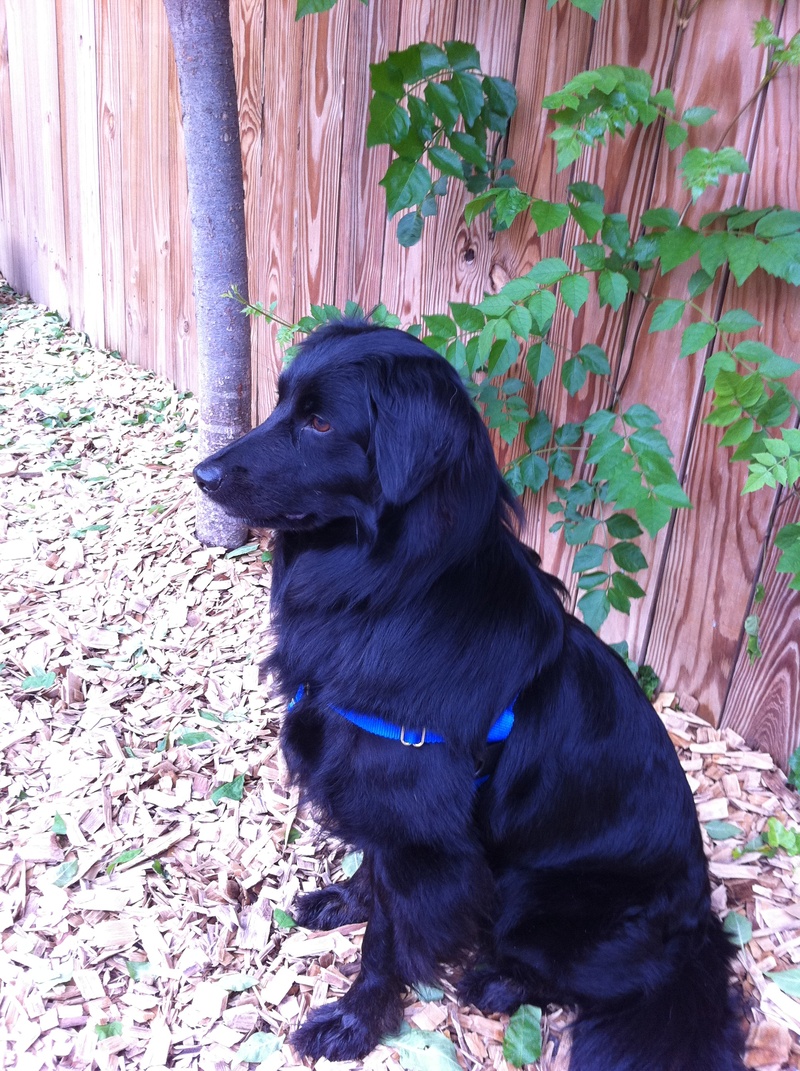 I was so attached to Phoenix, that after he left, I wanted to take awhile before including a new foster dog into our house.  Being a foster home is not easy!  I wasn't expecting to foster right now, I am very busy at work and will be starting classes this summer, but life is full of wonderful surprises!
Chance is a beautiful, healthy 5 year old male Flat Coated Retriever mix (scroll down if you want to see pictures).  Here is his story...
On March 19, 2011 at work (the Washington Animal Rescue League), we got in a group of 30 dogs from a no-kill shelter turned hoarding situation.  349 dogs were removed from the property.  The dogs were in pretty bad shape and 76 of the dogs on the property were found dead by the ASPCA.  From the 30 dogs that we received, they had varying medical issues - hip dysplasia, extremely underweight, obesity, hot spots, etc.  Almost all had extreme behavior issues; most were terrified of people and loud noises and many guarded food.  The behaviors were not surprising considering the dogs were mostly isolated from people, kept in horse stalls, and probably fed all together, which explains why some were really thin and others were obese and most were aggressive around food.
However, there was one dog who was really stuggling and caught my eye.  During the first week at the shelter, he began attacking his automatic water bowl (I think trying to get behind it to hide), so much so that he was hurting himself.  We moved him to the clinic to keep a closer eye on him.  Day after day I watched him.  We tried to coax him into accepting human presence by pairing it with his daily meals.  Daily, we tried to coax him out of his crate.  We put him on medication to take the edge off of the extremely stressful situation he found himself in.  Nothing worked.  We moved him into the main shelter and gave him a crate to hide in, but he still wouldn't engage with people and seemed chronically stressed.  Finally, after a month at WARL, I decided to take him into my home as a foster to see if he would show any signs of relaxing, any quality of life, any hint of "coming around." 
The first day I took him home, I had to give him a bath before leaving work (he came from living in a horsestall and smelled like it!).  He was terrified!  I thought he would physically hurt himself or me before the bath was over, but he didn't, he just came very close a couple of times to strangling himself on the leash.  Never during the 30 minutes of panicking during the bath did he aggress, which was a pretty amazing accomplishment!  After the bath, he panicked on-leash, lunging and darting around.  This was not surprising considering this was one of his first walks on leash ever and I had just scared the living daylights out of him.  When we got home, he darted straight into a large crate I had set up for him and wouldn't come out for the rest of the night.  I was a little nervous because he didn't go the bathroom, but I figured he needed the sercurity of the crate more than a potty training lesson.  Below is a picture from day one.  He buried himself all the way in the back up the crate and pushed all the blankets forward to provide as much of a barrier as possible.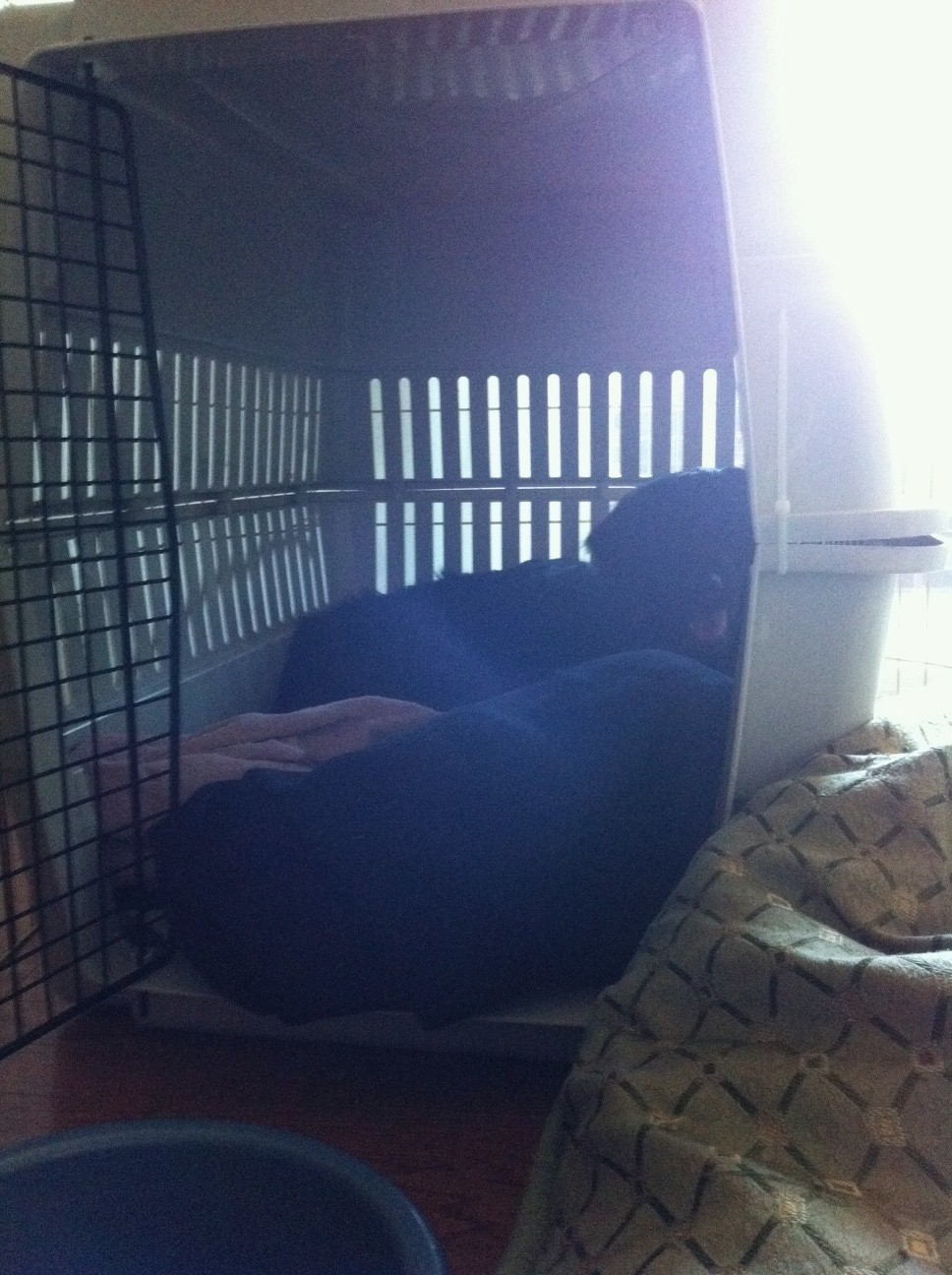 Here we are one and a half weeks later and I am truly impressed.  This was a dog who I thought might not make it in a world of humans because he was so terrified.  We have had our ups and downs, but there has been overwhelming sucess in his adjustment to human life.  He is totally housetrained (we take him out every 4 hours), he jumps easily in and out of the car to go for rides and usually lays down, he is very quiet, he is not destructive, he eats out of Kongs, he has learned that "Chance" means to make eye contact with me, he is learning that "touch" means to lick my outstretched hand, he walks calmly in the neighborhoods around my apartment, he loves to go hiking in Rock Creek, and he has learned to walk in and out of the elevator in my apartment building.  He is still learning several things: stairs (he fell down 1/2 a flight the first time he did them, but hasn't seemed to have a problem since), mirrors (he just stares and stares), a leash means that good things are going to happen, that strollers are not scary, how to navigate Connecticut Ave, and that "come" does not mean to run away :).
While I think Chance is going to be a bit of a project, I am committed.  I think that he will make a wonderful, loving, sweet companion for the right owners who have a little extra patience, time, and love to give.  Contact me at [email protected] if you are interested in learning more about Chance.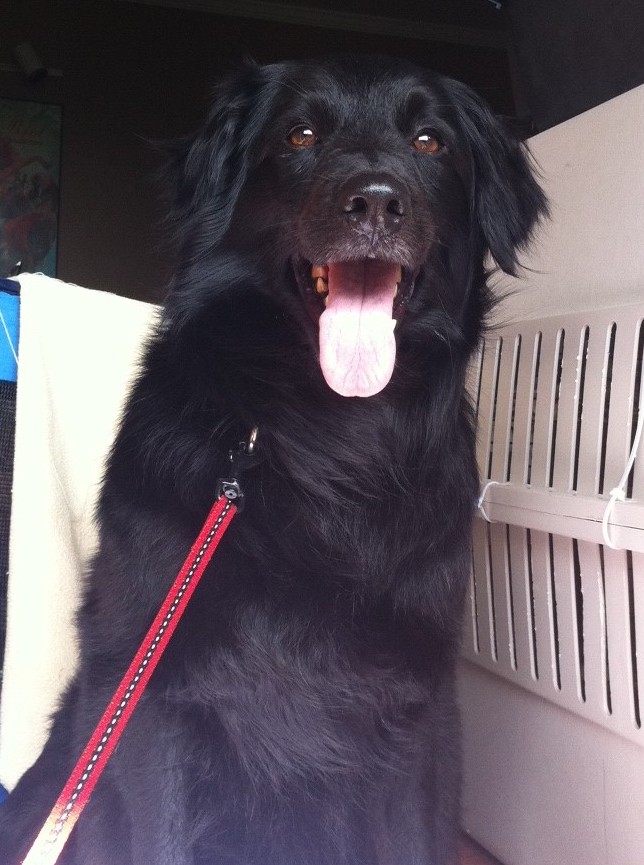 /